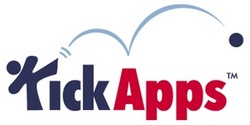 The social web has transformed the way web publishers are creating and delivering online experiences to their audiences
NEW YORK (PRWEB) May 20, 2008
The corrected release reads:
KICKAPPS CEO TO PRESENT AT GOLDMAN SACHS NINTH ANNUAL GLOBAL INTERNET CONFERENCE
KickApps (http://www.kickapps.com), the leading on demand, social media platform, today announced that Alex Blum, CEO of KickApps, has been invited to present at the Goldman Sachs Ninth Annual Global Internet Conference in Las Vegas, Nevada, on May 22, 2008, at 4PM Pacific Time.
In his presentation, Blum will discuss the way social media is impacting and defining the future of the Internet for online publishers, brands, advertisers and consumers. Concepts that Blum will cover, include:

Current and future market opportunities in the rapidly changing Social Web
Harnessing the power of member profile, social interaction and site context to effectively monetize the social web
Observations and predictions for who will emerge as the key enablers and beneficiaries of this fast growing market
KickApps is used by online publishers to deliver rapid audience growth, deeper levels of engagement and incremental advertising inventory on their websites. The KickApps Platform comprises of a hosted member and media management system and a suite of audience engagement applications that include social networking, user-generated content, programmable video players and widgets. With over 22,000 customers, including some of the largest brands in global media, sports and entertainment, KickApps powered sites generated over 300 million incremental pageviews in April 2008. Using a combination of intelligent ad serving and contextual relevance, publishers monetize the incremental pageviews through highly targeted advertising and editorial programming.
"The social web has transformed the way web publishers are creating and delivering online experiences to their audiences," said Alex Blum, CEO of KickApps. "Using KickApps, publishers of all sizes are able to harness the power of social media to create new dimensions to their business. We're honored to present at the Goldman Sachs Global Internet Conference and look forward to discussing the future of the web with some of the world's leading business and technology minds."
About KickApps
KickApps provides on demand social media applications that enable web publishers and marketers to grow, engage and monetize online audiences. Its SaaS platform includes social networking, user-generated content, programmable video players, viral Widgets and other applications that are tightly integrated with robust media moderation, member management and reporting. The KickApps Platform seamlessly integrates with any website using HTML, CSS, JavaScript, feeds, Widgets and APIs (REST and SOAP). Customers include: ABC Family, CW Television, Guinness World Records, Scripps Network Interactive, VIBE Magazine, HBO, Cinemax, Cox Television, the Phoenix Suns, the New York Knicks, the New York Rangers and thousands of other sites. For more information, please visit http://www.kickapps.com and http://www.kickdeveloper.com