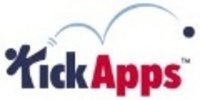 Our vision is to eliminate all barriers for publishers looking to deploy a wide range of social media applications at their own websites
NEW YORK (PRWEB) January 31, 2008
The introduction of the KickApps API Developer Kit provides access to the entire KickApps platform for deeper levels of integration and customization. With 3.0, web publishers now have complete control of their KickApps deployment. The Developer Kit offers robust and secure API's that enable custom workflow and tight integration with a publisher's existing content and third-party applications.
On the other end of the spectrum, KickApps 3.0 opens community creation to a wide range of non-technical web publishers. A powerful new WYSIWYG site creation and deployment interface allows web publishers with minimal technical knowledge the ability to build and customize social media websites and widgets with just a few clicks. These point-and-click features also help experienced web developers achieve rapid prototyping and fast deployment.
In addition, KickApps 3.0 includes an array of community experiences that focus on driving member engagement and viral growth: community news feeds, social graphs, one-click media syndication, media-enabled message boards and customized group features.
One of the most powerful enhancements is the KickApps 3.0 Affiliate Center. The KickApps Affiliate Center is where web developers deploy, customize, manage, monetize and moderate their online communities. Version 3.0 transforms the KickApps Affiliate Center into a dynamic control panel that provides real-time data essential to growing audience and engagement. The KickApps Advertising Manager in the Affiliate Center enables ad insertion from all major ad networks for optimal monetization.
"Our vision is to eliminate all barriers for publishers looking to deploy a wide range of social media applications at their own websites," said Alex Blum, CEO of KickApps. "KickApps 3.0 fulfills this vision by providing both expert developers as well as those with minimal expertise the ability to deploy and manage the kind of compelling user experiences that are now proven recipes for rapid audience growth and deeper engagement."
Summary of KickApps 3.0 features:
The KickApps Affiliate Center: Gain insight and build rapid audience growth with robust data-mining and reporting tools
-- At-a-glance information and real-time feeds monitor a full range of community activity
-- Enhanced reporting for analysis and export to a variety of formats, covering member and media activity, widget distribution and other essential community data
KickStart: Anyone can launch a full-featured social media community in minutes
Instant Customization: Explore a range of customization options and view in real-time with a WYSIWYG Site Styler
-- Easily customize site color, style and layout options in real-time
-- Puts the power of Cascading Style Sheets (CSS) in the hands of community builders of all skill levels
-- Experienced developers can download style sheets for detailed customization of all user-facing experiences
The KickApps Widget Studio: The industry's most advanced widget authoring environment
-- Intuitive and powerful, the KickApps Widget Studio serves the needs of advanced Flash programmers, web developers and non-programmers
-- Flex interface: point-and-click; drag-and-drop and WYSIWYG
-- Feed Manager: assemble and organize any media in multiple formats (e.g. RSS 2.0 )
-- Dozens of default widget layouts; real-time preview; Flash and HTML
-- Build new media widgets from scratch with drag-and-drop components (including images, feeds, lists, buttons, video players, and more)
-- One-click widget syndication to all major social networks and portals
-- Widget Studio 3.0 available in Private Beta today and final production March 2008
KickApps API Developer Kit: 100 percent customization and deep site integration
-- Open standard, powerful, REST-based APIs covering all business components
-- Extends existing SOAP single-sign-on (including one-click Drupal, Joomla and WordPress plugins)
-- Custom feeds, workflows and display, media ingestion and management
-- Tight integration with Affiliate CMS and user experiences
-- Usage-based pricing model: cost-efficient and advertising-free
Flexible business model meets the needs of websites of all sizes
-- PayPal buyout of KickApps Ad inventory on a self-service basis for small businesses
-- Volume pricing of ad-free and API experiences for larger businesses
-- No cost deployment available (includes advertising inventory share with KickApps)
User-Facing Features: Dozens of new user experiences designed to encourage engagement and grow audience
-- MyHome Page features a real-time dashboard and news feeds of community activity including recently uploaded media, comments and message board discussions
-- One-click hyper-syndication of any media directly to blogs and social media site, including Facebook, MySpace, Orkut, iGoogle, WordPress and Hi5
-- Multi-Media Message Boards include web-cam integration and media moderation; easy creation of new forums and profile integration of most recent discussions
-- Redesigned groups page, including dashboard with real-time group news and updates
-- Increased max file size uploads to 100MB for all media, including videos, photos, audio tracks and blog posts
For more information on KickApps 3.0 or to get started with your own social media experiences now, visit http://www.kickapps.com and http://www.kickdeveloper.com.
About KickApps
KickApps' on demand social media applications enable web publishers and marketers to quickly and easily grow, engage and monetize online audiences. Our SaaS platform features a broad spectrum of applications, including social networking, user-generated content, online video players and viral widgets. All KickApps building blocks are tightly integrated with administrative tools that include media moderation, member management and reporting. The KickApps platform seamlessly integrates with any website using HTML, CSS, JavaScript, feeds, widgets and APIs (REST and SOAP). Customers include: ABC Family, CW Television, Guinness World Records, Scripps Network Interactive, VIBE Magazine, HBO, Cinemax, Cox Television, the Phoenix Suns, the New York Knicks, the New York Rangers and thousands of other sites. For more information, please visit http://www.kickapps.com and http://www.kickdeveloper.com.