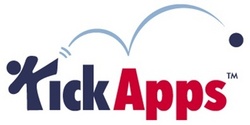 We believe that the 49ers Faithful are the best fans in the NFL and that social networking, online photo and video sharing are perfect web based complements for diehard fans who already live and breathe football
NEW YORK (PRWEB) August 18, 2008
The teams are using their new social media websites to increase online interactivity and engagement with fans, present video and photos in video players and widgets, and generate incremental revenue from new advertising and sponsorship opportunities. These websites further KickApps' industry leadership in the professional sports category. KickApps also powers community, video and widgets within the NBA's Phoenix Suns (PlanetOrange.net), the NFL's Seattle Seahawks (Spiritof12.com), the Arena Football League and Real Madrid America, among others.
"We believe that the 49ers Faithful are the best fans in the NFL and that social networking, online photo and video sharing are perfect web based complements for diehard fans who already live and breathe football," said Michael Williams, director of marketing for the 49ers. "Our fans express and share their passion for the 49ers at games, at home watching games on TV or listening to radio broadcasts, by the coffee maker at the office, and over the phone. In today's Internet world, they should also get the chance to show that loyalty and support online with other fans! We feel the enhancements we've made with KickApps to our 49ersfaithful.net site will enable us to achieve deeper relationships with our fans and gives us a channel to engage with them every minute of every day, 365 days a year."
The KickApps hosted platform powers sports-oriented websites with a wide range of integrated social networking applications, where fans establish their identities by creating their own profile pages, friend other fans and send public and private video and text messages to each other. KickApps also enables rich media sharing capabilities where fans can upload videos, photos, audio clips and blogs that express their passion for the teams. Members of the online communities can leave comments, rate, share, and 'snag' content as widgets and place them on other social networks, such as Facebook and MySpace, as well as on their own blogs or other fan websites. These widgets create virtual gateways back to the team's website, sending traffic from across the Internet.
"The New York Knicks and New York Rangers have some of the most passionate fans in the world and creating a destination for them to gather online is an important objective for us," said Scott Richman, senior vice president and general manager, MSG Interactive. "The KickApps Platform allowed us to very easily and quickly put together a website which features applications that create a highly interactive environment for our fans. This combined with the strategy and design guidance from Deep Focus resulted in a perfect branded experience that speaks directly to New York's basketball and hockey fans."
"Our KickApps website is a huge asset in uniting our fans and enabling them to express their Seahawks spirit with tools that are easy to use," said Mike Flood, vice president of community relations, Seattle Seahawks. "The KickApps team understands both broad goals and finer points of social networking. Combined, they helped us focus on creating a website that addressed the needs of fans of various Internet ability, featured easy-to-use administration on the back end, and is optimized to encourage participation."
The KickApps Platform also features a broad set of media applications that are easily integrated into existing websites. The KickApps Widget and Video Player Studio invites even non-technical web developers to create and deploy highly customized video players and widgets. The KickApps drag-and-drop application building environment removes the need for expensive technical resources to quickly deploy new editorial media content and is supported by industry-leading RSS feed and media management tools.
"Social media has proven to grow and reinforce the fan community, strengthen team and brand affinities, and create new revenue opportunities through merchandising, sponsorships and online advertising," said Alex Blum, CEO of KickApps. "As leading brands in professional basketball, football and hockey, these teams are paving the way in their industries by defining new channels for fan interaction and engagement, and revenue."
KickApps currently powers over 30,000 social media websites for large media and entertainment brands, professional sports teams, as well as fan created sports sites, such as My Jets Nation and The Lakers Nation.
About KickApps
KickApps provides on-demand social media, online video and widget applications that enable web publishers and marketers to grow, engage and monetize online audiences. Its SaaS platform includes social networking, user-generated content, programmable video players, drag-and-drop widget building, WidgeADs™ and other applications that are tightly integrated with robust media moderation, member management and reporting. The KickApps Platform seamlessly integrates with any website using HTML, CSS, JavaScript, feeds, Widgets and APIs (REST and SOAP). Customers include: SOAPnet, CW Television, Guinness World Records, Scripps Network Interactive, HBO, Cinemax, Cox Television, the Phoenix Suns, the New York Knicks, the New York Rangers and thousands of other sites. For more information, visit http://www.kickapps.com and http://www.kickdeveloper.com.