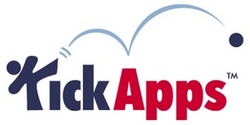 The market for branded social media applications and websites has expanded very quickly, both geographically and in its functionality
NEW YORK (PRWEB) September 24, 2008
The KickApps Platform is used by over 36,000 web publishers and brands around the world to create social media websites, including leading media & entertainment companies, consumer products manufacturers, professional sports teams and leagues, as well small businesses (a list of select customers is available at: http://www.kickapps.com/customers/). With KickApps' easy-to-use web-based interface, web designers and developers can easily create, deploy and manage branded social networks, photo & video sharing websites, blogs, message boards, customizable online video players, widgets and more.
"The market for branded social media applications and websites has expanded very quickly, both geographically and in its functionality," said Alex Blum, CEO of KickApps. "With our out-of-the-box support for multiple foreign languages, we're able to rapidly meet the global demand that KickApps has been receiving from web publishers and brands worldwide. We look forward to continuing to provide the most innovative and flexible social media and video applications that will enable our customers to grow their online audiences, create new revenue opportunities and drive deeper relationships with their customers on a global basis."
KickApps' multiple language support can be found in the 'Configure' section of the KickApps Affiliate Center, the online management console for creating, managing and deploying the KickApps Platform.
About KickApps
KickApps provides on-demand social media, online video and widget applications that enable web publishers and marketers to grow, engage and monetize online audiences. Its SaaS platform includes social networking, user-generated content, programmable video players, drag-and-drop widget building, WidgeADs™ and other applications that are tightly integrated with robust media moderation, member management and reporting. The KickApps Platform seamlessly integrates with any website using HTML, CSS, JavaScript, feeds, Widgets and APIs (REST and SOAP). Customers include: SOAPnet, CW Television, Guinness World Records, Scripps Network Interactive, HBO, Cinemax, Cox Television, the Phoenix Suns, the New York Knicks, the New York Rangers and thousands of other sites. For more information, visit http://www.kickapps.com and http://www.kickdeveloper.com.