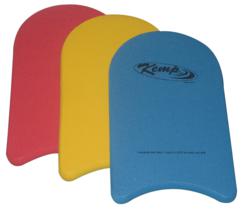 New York, NY (PRWEB) June 20, 2013
LifeguardMaster.com, an industry leader for emergency lifeguard gear is at it again in regard to superior design. This time it's the kickboard perfectly designed for swim team use as well as others in the population so transfixed on well-fit gear. Both rigid and hard, the kickboard is comfortable and can be used in a number of drills so essential to high performance in the water. Made of EVA foam, its rounded edges are easily and comfortably gripped. "The boards have a contoured bottom that fits every person's form," said Sammy, Owner of Lifeguard Master. "It doesn't hurt that the sleek design streamlines the experience in the water - the glide is just over-the-top magnificent with this item." Similar to the spongex board, the LifeguardMaster.com kickboard's ridges are not only needful, they're aptly placed for best traction and grip-ability. For more information on this, please click on Swim Team Boards.
With dimensions of 11.5" by 20" the kickboards available on the emergency lifeguard gear site are essential for not only working out but for training. "Swim teams can really be met with an advantage when it comes to this product because we offer a board on the site that's for advanced swimmers," said Sammy. The advanced kickboard offers less flotation support and thereby improves the ability to kick in the water. Dually, the Lifeguard Master site offers a beginner kickboard that is larger and offers more flotation support while beginner swimmers learn the techniques so useful to water maneuvers. The kickboards can also be used by recreational swimmers who merely want to develop a faster kick in the water. For more information about the board, go to http://lifeguardmaster.com/KICKBOARDS
Offered at $9.95 (currently – limited time) for the Swim Team Kickboard, a reduced price of $6.95 (currently – limited time) per board can be obtained when purchasing ten or more boards. The Swim Team Kickboard in the smaller size is available for $5.95 (currently – limited time) while the Contour Kickboard is valued at $9.95 (currently – limited time). "We try to offer the best quality products around. This quality board is better than most company's wholesale board. We take pride in our ability to pass along exceptional items at exceptional prices. And that's our guarantee. We wouldn't want it any other way," added Sammy.
Lifeguard Master has been in the swimming industry for years and is quickly becoming a leader in swim team supplies. For more information regarding this and to see our complete line of kickboards, please visit our website, send us an e-mail, or give us a call. Thank you. Please visit us at: http://www.lifeguardmaster.com/KICKBOARDS. Please also see the previous press release on this. Please click on: Kickboards
Sammy
Lifeguard Master
714-605-3090
http://LifeguardMaster.com