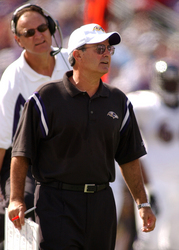 "We had a great showing of kicking talent at this event," said Coach Zauner. "A number of the teams said they were impressed with the specialist's performance, and the specialists said they were impressed with the showing of teams."
Phoenix, AZ (PRWEB) April 13, 2010
Coach Gary Zauner hosted his 2nd Annual Free Agent Specialists Combine in Phoenix, Arizona with 64 highly regarded kicking specialists showcasing their talent to 31 professional football teams.
With 24 National Football League (NFL), 3 Canadian League Football (CFL), and 4 United Football League (UFL) teams in attendance, 64 kicking specialists spent the day kicking, punting and snapping in an effort to fulfill their dream of playing professional football.
"We had a great showing of kicking talent at this event," said Zauner. "A number of the teams said they were impressed with the specialist's performance, and the specialists said they were impressed with the showing of teams. It seems both specialists and teams found value in attending the event."
And it didn't take long for that 'value' to turn into 'offers'. Shortly after the event, specialists Clint Stitser and Swayze Waters both received contract offers from NFL teams. Stitser received a contract offer from the New York Jets while Waters received one from the Oakland Raiders.
Coach Zauner, a former 13-year NFL Special Teams Coordinator, who is considered by many to be the best kicking coach in the country, says his first Combine, held in 2009, was also considered quite a success by both teams and players. Last year 32 professional teams attended, and 17 of the 41 kicking specialists evaluated were signed to professional football contracts.
Zauner says he is pleased at the success of his Second Free Agent Specialists Combine, an event he likes to call his 'Field Of Dreams.'
"It's always been my dream to create an event that would assist professional football teams in finding the best kicking specialist talent available. An event that would provide specialists with the opportunity to be evaluated by a large assembly of teams," says Zauner. "My first Combine succeeded at that by helping a number of teams find some very talented kicking specialists."
Both coaches and players attest to the success of Zauner's 1st Annual Free Agent Specialists Combine, and to Zauner's ability to find, and evaluate, professional quality kicking specialists.
Bill Polian, Indianapolis Colts President said, "With regards to Coach Zauner's Free Agent Specialists and College Senior Specialists Combines being a 'clearing house' for NFL teams'. Coach Zauner has demonstrated he has a reputation for evaluating and finding kicking specialist talent of NFL caliber. His Combines certainly have the potential to discover or re-discover quality kicking specialist talent that might otherwise go unnoticed by professional football teams."
Billy Cundiff, a 6-year NFL veteran kicker said, "After being out of the league for two years Coach Zauner's Free Agent Combine gave me a chance to showcase my skills in front of a big gathering of NFL Coaches and Scouts. The quality of kickers I competed against was excellent. Because of my performance at the event, the Lions brought me in for a workout during the preseason and signed me for the last two games. After my break in Detroit, other teams had to take notice. From there, I was signed by Cleveland and Baltimore teams that also noticed me at the combine. It feels great to playing again. If you're a kicking specialist and looking to highlight your talent, Coach Zauner's event is the place to be."
Zauner adds, "for some kicking specialists, my Free Agent Specialists Combine is their path to the NFL."
Zauner, who in February also held his 1st Annual College Senior Specialists Combine, is not resting on the success of his Free Agent Specialists Combines. In May, June and July he will be conducting a number of PRO Development Camps, to both train and evaluate college kicking specialists for his 2011 College Senior Specialists Combine.
"There is a great deal of kicking specialist's talent available at many levels," says Zauner. "I want to create events that will contribute to a kicking specialist development regardless what level they are at. Adding, "It's my goal to help kicking specialists, regardless where they are at in their career, progress along their path to the NFL."
# # #