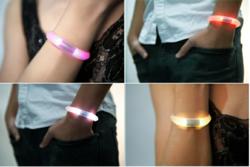 Once we came up with the idea for EMBRACE+, we began focusing on creating a notification device which would appeal to a wide audience.
Brooklyn, NY (PRWEB) March 18, 2013
The National Association of the Deaf (NAD) encourages everyone to not only recognize, but celebrate Deaf History Month from March 13 to April 15. Each historical event celebrated this month, from protests to the establishment of schools for the deaf, represents game-changing advancements of deaf and hard of hearing people in the United States.
In 1990, the Americans with Disabilities Act (ADA) mandated a nationwide system of telecommunications relay services, making the telephone network accessible to people who are deaf or hard of hearing. Until then, the Deaf community was deprived of modern technologies which heavily relied on hearing abilities. Before the days of TTYs and text messaging, the hearing impaired were only able to communicate via letters or in person, and have not only been hindered by these confinements, but frustrated as well. Given the latest advances in smartphones that allow for video chat and sign language, more doors have opened for this community including wearable technology which offers a rich communication experience no longer reliant on the ears, but the eyes.
Just because the hearing impaired are now able to use smartphones as a form of communication does not make them immune to missing calls or other notifications. Wearable technologies, such as the Pebble Watch and EMBRACE+ smart bracelet, fill that gap and allow users to receive mobile notifications either via a watch screen or flashing bracelet when their phones are out of sight. Wearers of the Pebble Watch are able to customize their device with apps, notifications and coding. The EMBRACE+ smart notification bracelet allows users to customize notifications for incoming calls, texts, social media apps or even different contacts with flashing colors and vibrations.
Instead of obsessively checking mobile phones or missing important calls and messages, users of these new wearable technologies are now able to focus their attention on other, more important things. Focusing on homework or running errands just became that much easier because users will be notified of a mobile notification by lights flashing on their wrists instead of searching for and checking a phone that may not even have a notification.
"Once we came up with the idea for EMBRACE+, we began focusing on creating a notification device which would appeal to a wide audience," says Rudi Beijnen, co-creator of EMBRACE+. "And that's just what we did. From tech savvy people to those living busy lives to the Deaf community, EMBRACE+ fits everyone's needs just perfectly."
To learn more about the EMBRACE+ smart notification bracelet, visit http://bit.ly/EMBRACEdeaf before Saturday, March 23 where the bracelet can be purchased for just $49. Fans can also Like EMBRACE+ on Facebook and Follow EMBRACE+ on Twitter in order to stay up to date with the smart bracelet's latest news, as the company is always adding to their list of compatibilities.
About EMBRACE+
EMBRACE+ was created by Paul Hornikx and Rudi Beijnen with the intent of keeping the connected generation connected to their smartphone devices no matter what it is they're doing. Paul and Rudi came up with the idea of EMBRACE+ while laughing about constantly checking their phones while out with friends. To solve this problem, the duo decided to come up with a solution and EMBRACE+ was born. EMBRACE+ is a stylish bracelet that allows users to customize notifications for incoming calls, text messages, social media apps and more. For more information on the product, visit http://bit.ly/EMBRACEdeaf, Like them on Facebook and Follow them on Twitter.