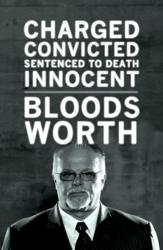 It's not just about raising money, it's about elevating the work through interacting with the community that comes out in support of it
(PRWEB) January 01, 2012
An early adopter of crowd-funding, Bayne's first success on Kickstarter.com came in January 2010 when he raised $27,210 in 20 days to produce his documentary feature, JENS PULVER | DRIVEN, about the legendary mixed martial artist, Jens Pulver. The film, which went on to find North American Video-on-Demand distribution via Warner Bros., was fully fan funded by a community of worldwide supporters.
For BLOODSWORTH: An Innocent Man, Bayne reached out to community once again, raising $25,841 in 30 days on Kickstarter to get his production underway.
"It's not just about raising money, it's about elevating the work through interacting with the community that comes out in support of it." says Bayne of his funding efforts.
To continue the momentum for BLOODSWORTH, and raise the full production budget, Bayne has secured fiscal sponsorship via the Independent Filmmaker Project (ifp.org), a 501(c)3 non-profit organization in New York able to accept tax-deductible donations toward the film's production on his behalf.
"The IFP has been an integral support network for independent filmmakers for over 30 years. To have their sponsorship of BLOODSWORTH means a great deal to me, and brings a lot of weight to the project," states Bayne. "Not only does their sponsorship open up the project to numerous grant opportunities, it allows me to go directly to those communities and individuals who share in the project's goal of shining a light on wrongful convictions in the United States, in order to make the film."
To learn more about BLOODSWORTH: An Innocent Man, and how to donate toward its production, visit http://thislovelymachine.com.
Gregory Bayne is a filmmaker living and working in Boise, Idaho. He has produced and directed two feature films since 2009, the narrative thriller PERSON OF INTEREST and the intimate documentary, JENS PULVER | DRIVEN, which received a workforce development grant in 2010 from the Idaho Film Office, and is currently in release via Warner Brothers Video on Demand. Bayne has been a guest speaker on the changing landscape of film and media at Columbia University, the Los Angeles Film Festival, the London Film School and the Idaho Cineposium, and is a columnist for Filmmaker Magazine.
###