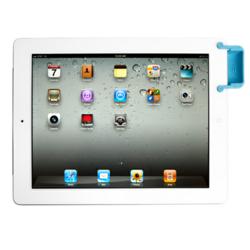 "Be on the lookout for new rewards and updates to come out in the next couple of days" Weiss said
Charlotte, N.C. (PRWEB) July 30, 2012
Simply Amazinc's first product, the SoundBenderTM amplifier, has successfully met its funding goal of $4,500 as it continues to gain momentum on the popular crowdfunding website Kickstarter.
The SoundBenderTM amplifier is a compact, magnetic and power free accessory that hooks onto the speaker of the iPad to bend the sound towards the user and amplify the sound output. It is small enough to fit in a pocket, book bag or purse, making it perfect for travel.
Creator Rabbi Moshe Weiss put the product on Kickstarter on June 19 this year. The funding campaign does not officially end until August 18, but it has already reached its goal. With 19 days left, Weiss hope to reach at least $10,000 in total funding.
"I am very happy that my product has funded, I am glad the people are backing my project," said Weiss. "I am looking towards my stretch goal now, and I believe we can get there."
As of today, the SoundBenderTM amplifier has $4,603 in funding with 341 backers. It is also ranked ninth on the Kickstarter Hot List, according to Kickstarter tracking site Kicktraq.
When the funding campaign started, all backers up to 300 were guaranteed a BONUS red SoundBenderTM to go along with their pledge. Weiss hit that mark on July 28, and he has promised another BONUS reward for future backers.
"Be on the lookout for new rewards and updates to come out in the next couple of days" Weiss said. "New colors will also be made available for backers."
To pre-order the SoundBenderTM amplifier and to track the campaign, visit their Kickstarter page.