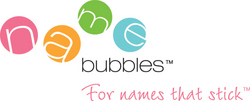 I definitely want to put labels on my sports equipment, like my soccer ball, PE shoes, and baseball glove.
Saratoga Springs, NY (PRWEB) July 14, 2009
Name Bubbles, press and stick waterproof labels made with an eco-friendly and non-toxic ink, are the perfect choice for labeling the many items kids use at school and during their afternoon activities. For school uniforms, athletic equipment, and school supplies – the Name Bubbles personalized School Pack provides a mix of label styles that are durable, washing machine and dishwasher safe.
Kids have a lot to remember, Name Bubbles help them keep track of their things. Pencil boxes, backpacks, lunch boxes, and team uniforms look similar; name labels for kids help minimize lost items saving families time and money. If a personal belonging has a label, other kids will know to whom it belongs. Name Bubbles are fun, have flare, and add a little character to personal items. Kids enjoy taking part in the creation process by selecting one of the eight color palettes and 16 icons.
Name Bubbles School Pack provides 144 labels in a variety of styles, these include:
-- 8 water resistant squares – perfect for big ticket items, these labels have room for contact information
-- 8 water resistant rectangles – made for binders, folders, notebooks, and school books
-- 36 water resistant minis – labels for art supplies and the many pencil box items
-- 2 extra large water resistant rectangles – a label for your locker, favorite binder, or subject folder
-- 56 laundry safe tags - press and stick kids clothing labels, for quick and reliable labeling
-- 16 shoe labels - shoe labels are often needed for the gym and after school activities
-- 16 waterproof rectangles – labels for outdoor or sports equipment
-- 2 extra large waterproof rectangles – great for backpacks, sports bags, or any favorite item
The Name Bubbles School Pack is available online for $33.50 at http://www.NameBubbles.com. To view downloadable Name Bubbles school label images click here.
Name Bubbles founder, Michelle Brandriss, asked her 7 yr-old niece Terra and 9 yr-old nephew Connor, to name a few items they are labeling for school this fall. Terra; "All the stuff in my pencil box, cuz if it falls out, somebody will know it's mine and will give it back to me." Connor; "I definitely want to put labels on my sports equipment, like my soccer ball, PE shoes, and baseball glove."
About Name Bubbles
Located in upstate New York, Name Bubbles is a company specializing in waterproof press and stick kids labels. Name Bubbles waterproof labels are dishwasher, microwave, and laundry safe. Custom packs are available for camp labels, school labels, and daycare labels. Fun and functional, Name Bubbles are a great choice for baby bottle labels, school uniform labels, and personalized name labels.
###