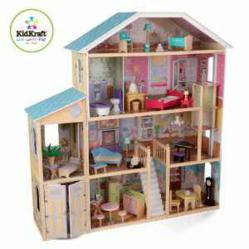 (PRWEB) December 03, 2012
KidKraft has been in the dollhouse-making industry since 1968. The dollhouse manufacturer has managed to build its international reputation with more than 40 years of experience. It is currently one of the top play set companies all over the world (Source: en.wikipedia.org/wiki/Kidkraft). A dollhouse is a good Christmas gift for young girls. KidKraft dollhouses are now recommended by Hottydeals website for this Christmas 2012.
More details about KidKraft dollhouses and toys can be found at hottydeals.com/KidKraft.
The safety and quality aspects of dollhouses are important features of all dollhouses manufactured by KidKraft. KidKraft items keeps in mind the safety of the children. The dollhouses are CARB compliant and do not include any damaging materials. Any KidKraft dollhouse features a play scene that imitates a life environment of a house. An assortment of accessories is also included.
A dollhouse is usually large in size. It is possible for children to play at one station at the same time. The accessories and overall playability aspects of the play set is enough for at least two children to play together. Parents that are confused about picking a good Christmas gift for children can check out a KidKraft dollhouse.
Some KidKraft dollhouses for this Christmas are:
1. Majestic Mansion dollhouse
The overall dimension of this play set is 51-inch length x 14-inch width x 53-inch height. The house miniature features 8 rooms, 30+ accessories, an elevator, a garage, and more. The dollhouse has 4 levels and it is mainly made of composite wood, plastic, and fabric.
2. Deluxe Townhouse
This package includes 3 mini-dolls and 27 furniture pieces. Deluxe Townhouse features 3 levels and 12 rooms. The play set is also mainly made of composite wood.
3. Deluxe Garage Set
This play set features 6 vehicles (cars and trucks), 1 helicopter, 4 people, winding ramp, and more. Metal, wood, and MDF materials are used for this set. The overall construction is sturdy.
4. Vintage Kitchen
KidKraft also produces various kitchen sets. Vintage Kitchen is one of the play sets for this Christmas season. The main features are removable sink and opening doors.
5. Outdoor Playhouse
This is a small playhouse featuring mailbox, windows, and doors. The dimension is large enough for children to play inside at the same time.
Various toys such as KidKraft dollhouses are available at low prices with Christmas deals and discounts. For more information about Christmas gifts and other holiday deals, visit http://hottydeals.com/KidKraft.