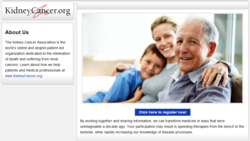 A registry is a vital tool for researchers to understand specific diseases better
Chicago, Ill. (PRWEB) June 17, 2013
The Kidney Cancer Association (KCA) is pleased to announce our own disease registry! This important program will help unite patients, families, clinicians, researchers, and the global community to improve understanding of kidney cancer and to advance research activity.
What is BigRegistry.org and why is it important?
A registry is a vital tool for researchers to understand specific diseases better, for pharmaceutical companies to develop new diagnostics and treatments, for clinicians to provide better care options, and for patients and their families to gain knowledge and support for living with the disease.
Patients opt into a registry to pool their de-identified medical information (meaning it does not include names, dates of birth, or other identifying data) with information from others with that same disease. Patients continue to own their data, and they can opt out at any time. Our Kidney Cancer CONNECT registry is managed by PatientCrossroads, the industry's leading and most trusted third-party patient registry organization.
We hope you'll consider joining the Kidney Cancer CONNECT registry by pointing your web browser to BigRegistry.org. It's one of the most powerful contributions you can make to the further understanding of renal malignancies, for the benefit of yourself, your family, and everyone else experiencing or affected by kidney cancer.
KCA is a charitable organization made up of patients, family members, physicians, researchers, and other health professionals. It is the world's first international charity dedicated specifically to the eradication of death and suffering from renal cancers. It is also by far the largest organization of its kind, with members in more than 100 countries.