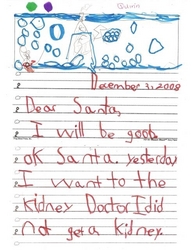 In some ways the letter is charming, in other ways it's heartbreaking
Atlanta, GA (PRWEB) December 23, 2008
Julia Roberts (not that one) is a friend of The PKD Foundation. Her daughter, Quinn Roberts, isn't just asking for dolls, or video games for Christmas this year. After watching her brother, Gage, only 9, go on dialysis and have a kidney transplant in 2007 -- and knowing she'll have to do the same, even as early as this coming year -- what Quinn wants most of all this holiday season is a healthy kidney.
"Her quality of life is slipping away," said her mom, Julia. "She's unbelievably itchy, tired, crabby and just feels lousy - she knows her kidneys are causing this because we've always been open with her about her disease."
Quinn and her brother have polycystic kidney disease, PKD, a life-threatening genetic kidney disease affecting 600,000 Americans and 12.5 million people worldwide. PKD causes cysts to grow on the kidneys, often leading to kidney failure. Dialysis and transplantation are the only treatment options. There is no cure for PKD.
Quinn was diagnosed with PKD at birth, leading doctors to test her brother as well. Their parents, Julia and Julian of Atlanta, GA, learned both children would need kidney transplants one day, most likely before the age of 10. After several months on dialysis, Gage had a kidney transplant in March 2007. His donor: a family friend. Soon after, Quinn's kidneys started failing at a faster rate. If another family friend is approved, she will likely be transplanted in the New Year.
Still, Quinn's note to Santa, a project for school, came as a complete surprise to her parents, who didn't realize her illness and need for a kidney weighed so heavy on her mind.
"In some ways the letter is charming, in other ways it's heartbreaking," Julia said.
Avid followers of the family's blog, Kidneys And Eyes agreed, writing posts like: "Santa, please bring Quinn a kidney in 2009. She needs one, and she deserves one, OK?"
The Roberts family, as well as medical experts and PKD Foundation staff, are available for interviews over the holidays and throughout the year.
The not-for-profit PKD Foundation is the only organization, worldwide, dedicated to fighting PKD through research and patient education. Learn more at PKDCure.org.
###