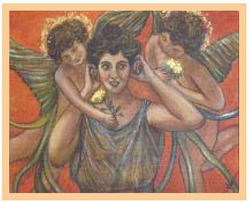 The Michelle's Angels Foundation strives to be proactive in getting the word out about organ donation through education. The holiday season is the perfect time to give the ultimate gift of life," said President Herb Knoll.
Clarence, NY (PRWEB) December 21, 2009
The Michelle's Angels Foundation Inc. (MAF) today announced that it's sponsoring a kidney organ donation awareness campaign this holiday season. The campaign titled, All I Want for Christmas Is a Kidney for My Friend, was conceived in the hopes to identify a kidney donor for one of their volunteers, Alicia Lee of Dallas, Texas. To learn more about how to help Alicia Lee or any one of the nearly 83,000 Americans in need of a kidney transplant, visit the National Kidney Foundation's http://www.livingdonors.org or call the National Kidney Foundation at (800) 622-9010. All inquiries are confidential.
Time is critical as approximently12 Americans die each day waiting for a kidney transplant in the U.S. Organ and tissue donations help others by giving them a second chance at life. With the many advances made in kidney transplant procedures, kidney transplants are less invasive then in years past. In fact, most donors are released from the hospital in about three days and return to work within seven to 14 days. Most Americans are not aware of the advances, and as a result, they give the life-saving procedure little thought. To play a role in the awareness campaign in your community, go to the Michelle's Angels Foundation's website http://www.MichellesAngels.com to learn more.
Foundation President Herb Knoll took to the streets in his hometown of San Antonio to hand out promotional flyers. Through Knoll's activities and a YouTube video, the foundation is promoting its core objective of asking people to turn the season of "giving" into a season of seriously considering giving the gift of life by donating a kidney. In addition MAF's Musical Director and Nashville singer-songwriter artist, Ken Harrell, composed the Christmas campaign's song titled "Life Lives On." The song's lyrics speak to the heart of the matter of people needing to "give the gift that can't be bought." Harrell's song is performed by Nashville singer-songwriter Kim Parent. Her credits include providing her harmonics on recordings by Faith Hill, Reba McEntire, Kenny Rogers among others.
"Michelle's Angels Foundation is committed to the life-saving and life-enhancing efforts of transplantation," said Herb Knoll, President. "The Michelle's Angels Foundation strives to be proactive in getting the word out about organ and tissue donation through education, as well as collaboration with people in need, the foundation's musical artists, the medical community, and donation centers. The holiday season is the perfect time to make a decision to give the ultimate gift of life."
An individual may consider being a living kidney donor. Living donation takes place when a living person donates an organ or part of an organ to someone in need of a transplant. With the number of people waiting for a transplant, it's becoming more important then ever for non-family related donors to step forward and donate anonymously." To learn more about living donation visit http://www.livingdonors.org.
About Michelle's Angels Foundation, Inc. of Clarence, New York; Nashville Tennessee and San Antonio, Texas.
The Michelle's Angels Foundation, Inc. is a not-for-profit corporation registered in New York State (501c3 Pending) with volunteers scattered across America. Its mission is to provide love, hope and assistance to those facing any one of a wide range of illnesses or life's challenges any where in the world. Through the foundation's website people from all walks of life receive powerful gifts of prayer, music and inspiration. The website serves as the principle vehicle employed by the Foundation to aid others and their loved ones.
###