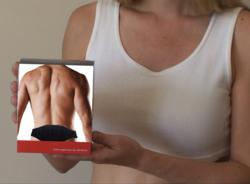 Dr. Allen's therapeutic devices are designed to treat kidneys and prostate gland locally: successfully and side-effects-free.
London, UK (PRWEB) December 07, 2012
For unknown reasons the number of people in the United States with kidney stones has been increasing over the past 30 years, reveals the National Institute of Diabetes and Digestive and Kidney Diseases (NIDDK). What's even more concerning, highlights Fine Treatment, kidney stones disease is recurrent as sufferers are turning into kidney stones producers. A report of December 3, 2012 in NBC2 News on 'Health Matters: Shocking way to break up kidney stones' describes: "For the past 20 years Glenz has battled a painful condition. His body is constantly making kidney stones. At least once a year, he's at the doctors."
Doctors have often used risky procedures for the treatment of kidney stones and enlarged prostate as, until recently, they haven't had harmless and effective treatment options available to offer to their patients; luckily a range of special Dr Allen's Devices has been designed to treat these common conditions at home successfully without any complications, Fine Treatment reveals.
The use of ESWL for kidney stones producers is dangerous. Reuters Health, NEW YORK, reports: "Shock-wave lithotripsy (SWL), a non-invasive technique that uses sound waves to sonically disintegrate stones within the urinary track, appears to increase the risk of diabetes and hypertension (high blood pressure), suggests a long-term follow-up study."
Regarding prostate conditions, the National Institutes of Health (NIH) states benign prostatic hyperplasia (BPH) is a widespread condition among men aged 60 to 69, as nearly three out of four men complained of nocturia; the proportion was nearly 83% among men 70 years and older. Senior men cannot undergo aggressive treatment options easily, as associated risks go up. They end up suffering from new problems. Just look at some of the experiences men have shared on Men's-Health Forum on Retrograde Ejaculation after Prostate Surgery: "Do not get laser prostate surgery – if you still enjoy having sex, you will not afterwards – they don't tell you everything!" dated 06/25/2011; or a post dated 10/2/2011 says: "I'm 44 male, 8 months ago I had Holap operation for BPH and still now I'm living a nightmare. Do not touch your prostate. The annoying symptoms you have now are nothing compared to what you have after surgery."
With proven efficacy, the natural Thermobalancing therapy enabled by Dr. Allen's Devices helps people to benefit from a harmless treatment at home without any discomfort. And there is no need to take any time out for the treatment. Please watch the following video http://www.youtube.com/watch?v=dCFy_jZgCLw on how a man with a hugely enlarged prostate has shrunk it by wearing Dr Allen's Device for Prostate Care. More patient feedback is available on our website.
"The Thermobalancing therapy gives a unique chance to terminate BPH and dissolve kidney stones naturally," says Dr. Simon Allen. "Dr. Allen's therapeutic devices are designed to treat kidneys and prostate gland locally: successfully and side-effects-free."
For details, visit Fine Treatment at http://finetreatment.com/bph-treatment-prostate-enlargement.
About Dr. Simon Allen and Fine Treatment:
Dr. Simon Allen is a highly experienced medical professional. His specialty is in the internal medicine and cardio-vascular field. He has treated a wide range of chronic diseases, including patients after a heart attack, with kidneys problems, including kidney stones disease, prostate and spine conditions, as well as metabolic disorders. Fine Treatment exclusively offers Dr Allen's devices for chronic prostatitis and BPH treatment, coronary heart disease, dissolving kidney stones, as well as lower back pain relief and sciatica treatment.