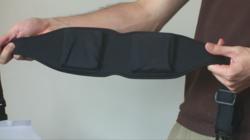 Dr. Allen's therapeutic devices treat naturally, dissolving all types and sizes of kidney stones and terminating BPH.
London, UK (PRWEB) July 18, 2012
New Dr. Allen's therapeutic devices change a common belief that removal treatment options for renal calculi and enlarged prostate are the only way forward showing, to the contrary, that a new therapy can dissolve kidney stones and terminate prostate enlargement naturally, Fine Treatment reveals. The improved blood circulation achieved with the Thermobalancing Therapy naturally repairs organs of the body by cleansing them from extra tissues reversing benign prostatic hyperplasia (BPH) and dissolving kidney stones.
Watch, for instance, a short video presenting medical documents about the dissolving of a huge mass of kidney stones, http://www.youtube.com/watch?v=EOMUqHVrSfk. "Thermobalancing Therapy appears to be relatively new alternative to treat this condition without complications," says Dr Maria F. Vinueza from the Netherlands. "The device used to balance body temperature locally is able to dissolve stones without affecting the kidney, preventing the administration of medication to dissolve calculi that are not devoid of side effects."
Unlike the Thermobalancing Therapy, extracorporeal shock wave lithotripsy (ESWL) breaks kidney stones in pieces which cause pain and bleeding. Moreover, shock waves may damage kidney tissue and negatively influence the adjacent organs, such as pancreas.
Regarding the prostate removal procedures, the American Urological Association Foundation states, "Erectile dysfunction, or impotence, is a possible complication following prostate surgery. The erectile dysfunction occurs because the nerves that stimulate the penis for an erection sit near the prostate. Removing the prostate and surrounding tissue may damage the nerves for erections."
Unlike BPH removal procedures, Dr. Allen's therapeutic device treats a prostate by improving blood circulation that gradually helps to restore the tissue of enlarged prostate rather than simply removes the whole prostate or a segment of it, like different prostate removal procedures do. This harmless approach helps men to keep enjoying their life and feel stronger and younger.
"Patients with kidney stones are frequently directed to undergo ESWL and men to have their enlarged prostate cut, while both of these procedures and the associated complications can be avoided nowadays," says Dr. Allen. "Dr. Allen's therapeutic devices treat naturally, dissolving all types and sizes of kidney stones and terminating BPH."
For more information please visit the Fine Treatment website: http://www.finetreatment.co.uk/prostatetreatmentbph/prostatitistreatment.html.
About Dr. Simon Allen and Fine Treatment:
Dr. Simon Allen is a highly experienced medical professional. His specialty is in the internal medicine and cardio-vascular field. He has treated patients with a wide range of chronic diseases, such as after a heart attack, with kidney stones disease, prostate and spine conditions, as well as metabolic disorders. Fine Treatment exclusively offers Dr. Allen's devices for the treatment of prostate, including chronic prostatitis and BPH, coronary heart disease, dissolving kidney stones, as well as upper and lower back pain treatment and sciatica relief.