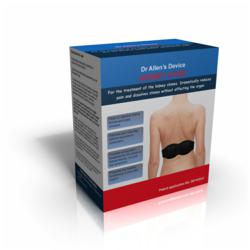 Any removal of kidney stone by force is dangerous as it can damage the kidney's tissue.
London, UK (PRWEB) January 06, 2012
Dr. Allen's Device for Kidney Care enables the Thermobalancing Therapy that dissolves any size of kidney stone and is available from Fine Treatment worldwide. This therapy is the only non-invasive way to get rid of a large kidney stone as according to National Kidney & Urologic Diseases Information Clearinghouse (NKUDIC) lithotripsy has restriction of removal of kidney stones bigger than 2cm.
Contrary to lithotripsy, Dr. Allen's therapeutic device helps to dissolve massive kidney stones, see the following video: http://www.youtube.com/watch?v=5Wo0BQ24D6U. However, it is important to dissolve any size of kidney stone with natural Thermobalancing Therapy as, according to Mayo Clinic, lithotripsy may develop serious adverse side effects in the future.
"Any removal of kidney stone by force is dangerous as it can damage the kidney's tissue," says Dr. Allen. "Below you can read a successful story of Richard P., from London who has dissolved a small kidney stone by using our treatment only. No comments necessary."
Richard P., has requested for Dr. Allen's Device for Prostate Care on March 2010. His kidney stones history was as follows:
"I do not believe that I have an extreme case of kidney stones, however I will give you some background information, as requested.
In late November last year, towards the end of a night shift at work, I began to experience a very strong ache on my right side, which was getting worse by the minute. It was quite unprecedented. The symptoms reappeared the following morning, lasted an hour or two, and this pattern would repeat every day or so, sometimes twice a day.
My local GP (after performing a urine test) was confident that I had a small kidney stone. He offered to refer me to the hospital where they might "see if they could grab it" - I did not like the sound of this, and declined!"
In November 2010 (8 months later he start wearing Dr. Allen's therapeutic device) e received the message from Richard: "Hi, so far no recurrences (touch wood!), has had the odd twinge particularly in cold, damp weather, but OK at the moment. Still wearing the belt except for work..."
On December, 2011 he answered on our enquiry: "No problems so far this year (in fact I have not worn the device this year at all). Regards, R."
About Dr. Simon Allen and Fine Treatment:
Dr. Simon Allen is a highly experienced medical professional. He achieved his PHD in medicine over 30 years ago, worked in different clinics and later subsequently headed a hospital. Fine treatment distributes unique devices for a prostate: BPH and prostatitis treatment, to dissolve kidney stones, relieve back pain and recover after a heart attack.
# # #