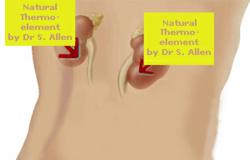 Remember that Lithotripsy or shock waves will shock all your body and develop high blood pressure and diabetes
London, UK (PRWEB) December 27, 2011
Fine Treatment announces the release of a new kidney stone treatment with a natural device that does not affect the organ and dissolves all types and sizes of kidney stone without pain. Fine Treatment is a producer of Dr. Simon Allen's Thermobalancing Therapy devices, which are effective, non-invasive, and do not cause any adverse side effects.
The development of a harmless treatment that dissolves kidney stones naturally is an important issue as the lifetime risk for developing a stone is approximately 5 to 15% in the USA and something like three in 20 men and one in 20 women in the UK will develop a kidney stone at some point in their lifetime.
Dr. Simon Allen's therapeutic device dramatically reduces pain straightaway and dissolves a kidney stone gradually. It is an alternative to other kidney stone remedies including, painkillers, diet, supplements, Lithotripsy or ESWL, laser or another kidney surgery. It prevents any harmful medication and operations. The device targets the cause of the kidney stone formation and works in the following ways:
*Dissolves small kidney stones of about 3mm in size in 3 months
*Dissolves medium-sized kidney stones of about 5mm in 6 months
*Dissolves large kidney stones over 1cm in one year or longer
Dr. Allen has developed the Theory of Capillaries Activity, which determines that various internal health problems originate at the capillary level. Based on this theory, Dr. Allen has developed treatments using a Thermobalancing Therapy, effective for kidney stones, recovery after a heart attack, back pain relive, treatment of BPH, chronic prostatitis and other internal chronic diseases. Neither conventional nor alternative medicines suggest a similar approach to the treatment of various medical problems.
"Dissolve kidney stone with the first effective natural device and forget pain, medication and operations," says Dr. Simon Allen. "Remember that Lithotripsy or shock waves will shock all your body and develop high blood pressure and diabetes".
Dr. Allen's devices are only sold online from Fine Treatment. For more information on how to dissolve kidney stones at home visit: http://www.finetreatment.co.uk/natural-alternative/kidney-stone-treatment.html.
About Fine Treatment:
Fine Treatment is a producer and distributer of Dr. Simon Allen's therapeutic devices. Fine Treatment supports treatments for kidney stones, prostate enlargement, sciatica, upper and lower back pain, knee osteoarthritis, heart treatment and recovery.
About Dr. Simon Allen:
Dr. Simon Allen is a highly experienced medical professional with 40 years of work experience in clinical medicine and obtained a PhD in Medicine in 1978. He treated patients with heart, kidneys, prostate, joints and other medical problems.
###