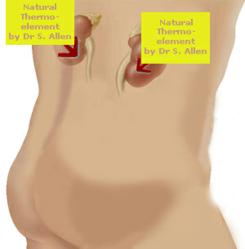 Chronic renal failure after surgery that removes kidney stones may develop slowly, sometimes it can take 10 years, and it is the worse problem people can experience. That is why everyone must try to avoid any surgery which touches their kidney
London, United Kingdom (PRWEB) September 14, 2011
Fine Treatment announces the release of a new kidney stones treatment device that does not affect the organ and cause any adverse side effects. Fine Treatment is a producer and distributer of Dr. Simon Allen's Thermobalancing Therapy devices, which are non-invasive and extremely effective and unique on the World market.
According to a video which documents a kidney stones treatment by Fine Treatment, Dr. Allen's device completely dissolves any type and size of kidney stone. The video also evidences that kidney stones treatment offered by Fine Treatment helped a lady from Australia who suffered 26 years and a man from the UK to get rid of dreadful kidney stones symptoms.
Furthermore from the Fine Treatment video, Dr. Allen's Thermobalancing Therapy device is shown to dissolve kidney stones without side effects. The unique device prevents any harmful medication and future operations. It is an alternative to other kidney stone remedies such as painkillers, diet, supplements, Lithotripsy (ESWL), laser therapy and kidney surgery. The device targets the cause of the kidney disorder and works in the following ways:
*Dissolves small kidney stones of about 3mm in size in 3 months
*Dissolves medium-sized kidney stones of about 5mm in 6 months
*Dissolves large kidney stones over 1cm in one year or longer
*Relieves pain and eases urination naturally without medication
A common question asked, "Why do you need complications from the treatment you receive?" According to Dr Allen, a common medical procedure which is carried out on people who suffer from kidney stones involves sending shock waves into the body. However this procedure can have nasty side effects including severe pain when trying to urinate, bleeding as well and urinary tract infection. It is true that shock waves therapy or lithotripsy, can actually make the kidney stones disease even worse and, also, affect pancreas gland with development of diabetes. Any surgery involves actually removing the stones from a kidney which is always a risk of a devastating disease: chronic kidneys failure.
"Chronic renal failure after surgery that removes kidney stones may develop slowly, sometimes it can take 10 years, and it is the worse problem people can experience. That is why everyone must try to avoid any surgery which touches their kidney", - explains Dr Allen. "Learn here how to dissolve kidney stone naturally" he adds.
Fine Treatment believes Kidney stones elimination naturally has become realistic with advancement in the knowledge of the kidney stone formation developed by Dr Allen and this problem now can be solved by following a simple kidney stones treatment at home.
For more information on how to dissolve kidney stones at home, visit http://www.finetreatment.co.uk/natural-alternative/kidney-stone-treatment.html.
About Fine Treatment:
Fine Treatment supports treatments for kidney stones, the prostate, particularly BPH treatment, sciatica, upper and lower back pain, heart treatment and recovery.
About Dr. Simon Allen:
Dr. Simon Allen is a highly experienced medical professional with over 30 years of work experience in clinical medicine. He obtained a PhD in Medicine in 1978. He worked at cardio-vascular department and treated patients with renal diseases, and later subsequently headed a hospital.
Contact:
Dr. Simon Allen
44(0)7958878300
info(at)finetreatment(dot)co(dot)uk
###