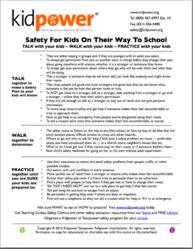 Reviewing upsetting details about what happened over and over does not make children safer – it makes them scared and runs the risk of causing avoidable, additional trauma.
Santa Cruz, CA (PRWEB) March 30, 2012
Kidpower, a nonprofit leader in child abduction and abuse prevention, responds to recent news of missing and possibly kidnapped teen, Sierra LaMar, by offering a free one-page checklist for parents, Safety For Kids On The Way To School, with advice about how to prepare their kids to make safe choices and get help while on their way to and from school, or anywhere else that they are allowed to go on their own.
According to CBS News, Sierra Lamar, a 15-year-old, disappeared near her home in Morgan Hill, CA on March 16, sometime between a text message sent to a friend and nine minutes later when she didn't show up to her school bus. Santa Clara County Sheriff Laurie Smith told a CBS reporter on Thursday that police no longer think she may have run away and believe that she was most likely kidnapped, potentially by someone she knows.
"We don't know what happened to Sierra yet," says Irene van der Zande, founder and executive director of Kidpower Teenpower Fullpower International (Kidpower for short). "But it's hard not to fear the worst and to wish that she had known whatever it was she needed to know to stay safe: to be aware of her surroundings and not distracted while on her own, to keep out of reach of someone on the sidewalk, to not to take a ride even from an acquaintance without checking first – and as soon as she knew she had trouble, to yell, run, make a scene, and to fight to protect herself."
Even though hundreds of volunteers and professionals have been searching for LaMar and clues about what happened - reportedly finding her purse, backpack and cellphone - there are still no definitive leads reported. "Our hearts go out to her family and friends who are all searching and waiting," says van der Zande.
In response, van der Zande advocates that all parents and schools take positive, practical action to prevent harm to children and teens. A new one-page "Safety For Kids On The Way To School Checklist" is available for parents, compiled from Kidpower's wide-ranging safety curriculum publications and workshops, which emphasizes making safety plans and teaching skills. Kidpower's checklist asks parents to "talk, walk and practice" with kids so that they know and can demonstrate how to be aware, take charge and get help if they encounter trouble on their way to or from anywhere they go on their own.
Download the full version of the Safety For Kids On Their Way To School Checklist from Kidpower; a partial list includes:
Talk together to make a Safety Plan so your kids will know:
— They are safest staying in groups and, if they are younger, with an adult you select.
— That a stranger is someone they do not know well, can look like anybody, and might know their name.
— To not get close to a stranger, talk to a stranger, take anything from a stranger, or go with a stranger – unless they have their adult's permission.
Walk together to determine:
— The safest route to follow on the way to and from school on foot, by bus, or by bike, etc.
— Where to go and who to ask for help if kids have a safety problem on route
— Each child's safety readiness for going on her or his own without adult supervision.
Practice together until you are sure your kids are prepared to:
— Use their awareness to notice and avoid safety problems from people, traffic, or other possible trouble.
— Move quickly out of reach from a stranger or anyone who makes them feel uncomfortable.
— Follow their safety plan even if a friend tries to persuade them to do otherwise.
— Yell "No! I need help!" and run to a safe place to get help if they feel scared.
— Yell, pull away, hit and kick to escape from an attack.
— Be persistent in getting help, even if adults are busy or impatient.
"If you're not sure what to say or how to practice, we can help," says van der Zande. "Kidpower offers hands-on, practical and upbeat workshops, plus free and low-cost educational resources, such as teaching guides, Safety Comics and books for adults to use to teach safety skills to children and teens."
About Irene van der Zande, Kidpower Executive Director and Founder
In 1985, Irene van der Zande, a young mother and new author, was suddenly, in the middle of the day, with people standing all around, protecting a group of young children, including her seven-year-old daughter and her four-year-old son, from a man who was threatening to kidnap them. That experience left van der Zande with a lot of fear, so she took a self-defense class. Realizing that she couldn't be with her own children all the time, and that she wanted all children to be safe, she collaborated with educators, law enforcement experts, mental health professionals, martial artists, and other parents to develop programs for teaching personal safety and violence prevention that are empowering, fun, and effective, establishing Kidpower as a nonprofit organization in 1989.
For more than two decades, van der Zande has led Kidpower as its executive director, founder, and primary author. In addition to many articles and training manuals, her publications include "1, 2, 3 ... The Toddler Years" (with a foreword by Magda Gerber), "Bullying – What Adults Need to Know and Do to Keep Kids Safe," "The Kidpower Book for Caring Adults," "The Fullpower Relationship Safety Handbook," a cartoon-illustrated "Safety Comics" series and "Kidpower Teaching Kits" with evidence-based, K-12 curriculum in easy lesson plans for elementary, high school and transitional program classroom instruction.
About Kidpower
Kidpower Teenpower Fullpower International®, known as Kidpower® (http://www.kidpower.org), is highly recommended by experts worldwide for taking a positive, skills-based approach to bullying, violence, abuse and abduction prevention. Instead of using fear to teach young people about violence prevention, the Kidpower Method™ makes it fun to learn to be safe, building habits that increase the skills and confidence of kids, parents, teachers and other caring adults that can last a lifetime.
Kidpower has directly served more than 2 million people of all ages and abilities, since its founding in 1989, offering workshops through more than 20 centers and offices across the US and around the world, as well as an extensive free library of articles, podcasts and blog posts online and low-cost publications that are used by hundreds of thousands of people every year. Kidpower is endorsed by hundreds of schools, organizations, and experts, including best-selling author Gavin de Becker, Police Chief Manny Solano, and the Child Protection Center at Children's Hospital & Research Center Oakland.
Kidpower's newest global initiative is the "One Million Safer Kids" campaign which has the goal of making at least one million young people safer from bullying, violence, abuse and abduction through greater awareness, action, and skills by July 1, 2016 or sooner.
For more information or to interview Irene van der Zande, please call 1-800-467-6997, ext. 1# or email "safety" at kidpower.org.