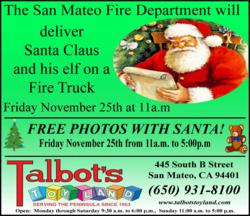 Talbot's is a gem in San Mateo. As a parent, I am so happy to have this fabulous toy store to shop at
San Mateo, CA (PRWEB) November 22, 2011
Bay Area children's games company, Talbot's Toyland is pleased to announce that Santa Claus will be arriving to kickoff the holiday shopping season at Talbot's Toyland. His arrival will happen on Friday, November 25 and children can have their picture taken with the jolly old elf from 11 a.m. through 5 p.m.
Talbot's Toyland started the tradition more than twenty years ago with Santa arriving via fire truck the day after Thanksgiving to officially open the Christmas season.
Started in 1953, Talbot's Toyland in downtown San Mateo has become a destination for children of all ages. With an emphasis on superior customer service, knowledgeable sales staff and a broad selection of toys, Talbot's has helped make children's dreams come true for more than a half century. They feature a play area with trains and a doll house that children absolutely adore.
Stephanie D., a locale in San Mateo has nothing but fond memories at Talbot's.
She remarks, "Talbot's is a gem in San Mateo. As a parent, I am so happy to have this fabulous toy store to shop at. The selection is very good with a wide variety of toys ranging from the more conventional like Play-Doh and Lego to wood and eco-friendly toys, educational toys, bikes, games, and hobby supplies."
For more information on this Bay Area kid's activities company, Talbot's Toyland, call (650) 242-4128 or visit them online at http://www.talbotstoyland.com. Talbot's Toyland is located at 445 South 8th Street San Mateo, CA 94401.
About Talbot's Toyland
Established in 1953, Talbot's Toyland has provided Bay Area residents, their children, and their grandchildren with fulfilling toys, hobbies, dolls and more. For more than fifty years, they have been an independently owned and operated toy store featuring a huge assortment of children's games and kid's activities. They specialize in carrying high quality unique toys, hobbies and bicycles. From Barbie Dolls to hobby train sets, you can find toys to suit children of all ages.
###