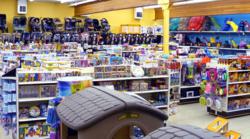 For the past month and a half we have been working with World Bicycle Relief to raise enough to fund 25 bicycles for students in Zambia
San Mateo, CA (Vocus/PRWEB) May 13, 2011
Talbot's Cyclery will be hosting a Bicycle Fair in Downtown San Mateo on Saturday, May 14. The events below will be held between 11 a.m. and 5 p.m. in the parking lot behind the Talbot's Toyland at 445 South B Street in San Mateo.
Bicycle Safety Rodeo
Talbot's Cyclery and the City of San Mateo Police Department will be hosting a Bicycle Safety Rodeo from 11 a.m. to 3 p.m. Bring children and their bikes to learn safe riding skills and then utilize them on the Bike Rodeo Course. The Bike Rodeo is a great opportunity for children to brush up on cycling skills before summer vacation begins. Each child's bike will receive a free safety check and all children participating in the event will have an opportunity to win a new bike helmet and cycling gloves.
Diamondback Freestyle Stunt Riders
See the fantastic riding skills of Diamondback Pro Rider's Freestyle Team. Pro Dirt and Freestyle Riders Nate Berkheimer and Rob Armour will demonstrate riding skills that you will have to see to believe. Nate is best known for being one of the most versatile riders on the planet, making several dirt jumping finals at the Dew Tour over the past few seasons and competing in BMX bicycle AA Pro. Rob has proven to be a super strong pro contender with his own riding style, destined to be a top finisher in upcoming dirt jump/ramp contests.
There will be two shows at noon and 2 p.m.
Test Ride 2011 Raleigh Bicycles
Check out Talbot's fleet of Raleigh Demo Bicycles and take one for a spin. The fleet consists of men and women's road bikes, flatbar bikes, a 29'er all-terrain bike and the new internal eight-speed cadent. This event will be hosted by Raleigh Territory Manager Jeff Kazan.
There will also be World Bike Relief Raffle with the winner picking up a Raleigh Cadent or Alysa FT-1 Bicycle.
"For the past month and a half we have been working with World Bicycle Relief to raise enough to fund 25 bicycles for students in Zambia," said Keith Schumacker of Talbot's Toyland. "We have exceeded 75% of the necessary amount and our efforts are now in the home stretch."
Raleigh Bicycles will be generously donating either a Raleigh Cadent FT-1 bicycle for men or an Alysa FT-1 bicycle for women. Both bicycles are valued at $575. The drawing will be held at 5 p.m.
City of San Mateo Master Bicycle Plan
The City of San Mateo has completed a draft of future pedestrian/bicycle routes throughout the city. Staff will be on hand to present information on their progress and show what will soon make it much easier and safer to bicycle to work, shop and just for fun and health in San Mateo.
For more information, call (650) 242-4128 or visit us online at http://www.talbotscyclery.com.
About Talbot's Toyland &Cyclery
Established in 1953, Talbot's Toyland &Cyclery has provided Bay Area residents, their children, and their grandchildren with fulfilling toys, hobbies, dolls and more.
For more than fifty years, they have been an independently owned and operated toy store featuring a huge assortment of children's games and kid's activities. They specialize in carrying high quality unique toys, hobbies and bicycles. From Barbie dolls to hobby train sets, you can find toys to suit children of all ages.
###