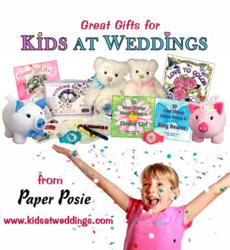 Throughout history children have always attended weddings.
Santa Barbara, CA (PRWEB) November 21, 2011
Recently, there have been quite a few Flower Girl and Ring Bearer bloopers and kids at wedding horror stories shared on social networking sites. With over two million weddings a year, many little girls and boys become Flower Girls and Ring Bearers, and many more will be little wedding guests with all their energy and sometimes challenging behaviors. The experts at Kidsatweddings.com share five tips that can help make sure everyone has a happy wedding day.
1. Provide childcare solutions, consider a professional child minder on site, or qualified teens to help families at the ceremony and reception. Make sure there is an area where children can play a little.
2. Offer activities and entertainment. Consider a magician or balloons. Provide activity kits, coloring books, stickers, autograph cards, scavenger hunts, and so forth.
3. Help parents prepare little attendants with practice rehearsals and discussions. Flower Girl and Ring Bearer story books can help. Always give lots of reassurance and have some back up plans for reluctant or very shy children. Keep their outfits adorable but easy to wear!
4. Kid friendly food at the reception is a must, and consider a special children's table if they all know each other and they are similar ages. Help parents relax by having little clean easy to eat snack packs available for the inevitable wait times.
5. Expect children to run around, let off steam, take their shoes off and slide on the dance floor, many of us have the best memories of family weddings.
###