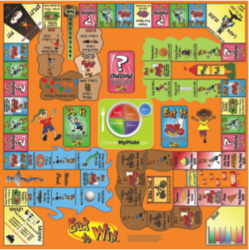 Highland, Michigan (PRWEB) March 12, 2013
Eat to Win LLC, makers of FunNutritional games and products, have released a new video on YouTube featuring Creative Child Magazine's 2012 Game of the Year board game, Eat to Win.
Created through a collaboration with Healthy Hip Hop, the new video features a light-hearted rap promoting the importance of being active in the games, as it shows children participating in the activities. Click here to watch the video.
Eat to Win makes interactive games that inspire kids to learn the fundamentals of nutrition while having fun and promoting weight loss. The game's activities teach children to make better choices by learning the value of food, the benefits of exercise and the experience of handling money, in a fun, energetic way that a child would want to keep doing.
Jammi Roscoe, Chief Executive Director of Fun for Eat to Win added, "It's so important to us that we can connect with kids who stand to gain so much from such a simple family activity as a board game. A healthy life starts at home. Our game instills so many concepts that will be valuable to kids for life: the importance of healthy habits, making good decisions about what you eat, staying active, and most importantly you can have fun doing all of these things."
Inspired by her son's personal struggles with weight as a child, Jammi Roscoe created the Eat to Win games to help him overcome his battle with weight so he could play football without a target on his uniform indicating he was too overweight to fully participate in the activity. After rampant success, her idea quickly spread throughout the community and Eat to Win hasn't looked back.
To purchase the game or other Eat to Win products, visit http://www.eattowingame.com; to keep up with the latest in news and information, Like Us on Facebook.
About Eat to Win:
Eat to Win was created by a concerned mom whose own child struggled with being overweight. Child obesity in America has become a major issue. An unhealthy lifestyle is a common problem among children and adults. Eat to Win was created to help encourage nutrition and exercise through fun and active games. Please share your stories with us on Facebook and Like Us to receive a discount! Our games are in agreement with ChooseMyPlate.gov.