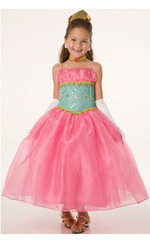 San Francisco, CA (PRWEB) October 19, 2011
Gigi + Rose, a San Francisco kids clothing boutique located in Ghirardelli Square's premier fashion boutique, provides Bay Area residents with feminine day dresses, super chic sweaters and clothing, an abundance of lighthearted gift items and children's clothing and kid's toys.
For Halloween, Gigi + Rose is filled to the brim with little girl gowns and all the accessories.
"Little girls love to dream and I love seeing the light in their eyes when they see themselves in the mirror," said designer and owner Kristina De Pizzol. "Our dress up section is amazing. It is filled with truly beautiful gowns in gold and starlight blue, right out of a fairytale. Last week one dad had to take his little girl out for a few minutes to calm her down. Her eyes were huge and she was so excited. Girls love it here."
San Francisco women's clothing, Gigi + Rose is eye candy for Mom as well. While the girls shop and delight in the fun "I Dream of Genie" corner - Moms can browse and enjoy the tasteful selection of clothing and home items for them. She can check out the stylin' hats from Japanese Designer Grace, super soft angora hats from Kangol, and hip fedora's from SF's own Goorin Bros. as well as clothing from Free People, Tulle and Ryu.
For more information on Gigi + Rose and their products, contact them at (415) 765-9060 or visit them on the web at http://www.gigiandrose.com. They are located in Ghirardelli Square 900, North Point Ste. #H103 San Francisco, CA 94109. The entrance is located on Beach Street.
About Gigi + Rose
Gigi + Rose a San Francisco fashion boutique carries a wide selection of women's accessories, bags, and jewelry -- much of it made by local artisans and designers. In addition, there is a little girl dreamland filled with tutus, dress up and Hello Kitty. Fun, pretty and not too serious. Just right.
###