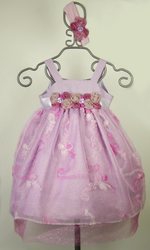 Crab Apple Kids stocks over 75 brands of the most enchanting, trendiest names in baby, toddler and kid clothing.
South Barrington, IL (PRWEB) July 6, 2010
While fashion-forward parents can find all the best kids clothes at Crab Apple Kids, they can now find the finest in Christening Gowns and Formal Dresses too.
"We are pleased to announce the addition of L'Pety Canar and C'est Chouette to our product mix," said Anna Incledon, CEO of Crab Apple Kids. "L'Pety Canar allows us to offer some of the most elegant Christening Gowns in the industry. They are an excellent complement to the Baby Biscotti gowns we carry today. And C'est Chouette gives us some of the most stunning girl's formal dresses I have ever seen. The detail-work on both of these labels is incredible."
Crab Apple Kids stocks over 75 brands of the most enchanting, trendiest names in child, toddler and baby clothing. In addition to the newly added L'Pety Canar and C'est Chouette brands, some of the other hot kids clothes labels they carry include Anita G, Biscotti, BT Kids, Cach Cach, Corky & Company, English Roses, Harley Davidson, Hartstrings, Haute Baby, Indygo, Kapital K, Kate Mack, Katie Rose, Kidorable, Knuckleheads, LeTop, Lipstik, Little Maven, Me Me Me, Nano, Oopsy Daisy Baby, Vitamins Baby and many more.
Beyond kids clothes, shoppers will find show stopping shower gifts, including personalized hair brushes, DVDs and CDs, heirloom quality christening blankets and gowns, and some very unique everyday items such as eating utensils, aprons and pacifiers.
Become a Crab Apple Kids fan on Facebook and Twitter. Visit the store now to view their extensive choice of toddler and baby clothing and swimwear. Crab Apple Kids strives to become every parent's first stop for kids clothes and baby shower gifts.
# # #