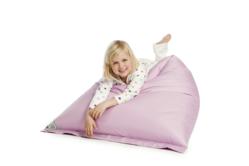 They are comfy to lounge on, fun to wrestle with and easy to move around, and drag. And grown ups like them too
New York, NY (PRWEB) April 02, 2013
ModernTots.com is a specialty online store that offers a curated selection of modern kids furniture and children's products. They have recently broadened their selection by adding a category of bean bags to their store. Modern Tots specializes in selling modern children's furniture and felt that bean bags would make a nice addition to the fun furniture that they are already carrying.
"Bean bags are great for kids. They are comfy to lounge on, fun to wrestle with and easy to move around, and drag. And grown ups like them too," says Carmen Scyphers, co-founder of ModernTots.com
The first brand of bean bags that are being offered are Sit On It by Zet. The filling of these bean bags consists of virgin quality flame retardant EPS beads, which is the best quality available according to bean bag standards. These beads are more uniform and stronger making the chair adapt its shape to that of your body.
ModernTots.com is currently carrying The Tryangle and The Original. The Tryangle is a smaller bean bag, 100 x 65 cm, just right for kids. Sit On It, The Original is quite large at 300 x 300 cm. It is promoted as multifunctional, to be used as a bed, sofa, playground, or just about any way imaginable. Modern Tots also has a bean bag review of the Tryanlge on their blog. In addition to the Sit On It brand, Moderntots.com plans to add more brands, styles and varieties of bean bags to their site.