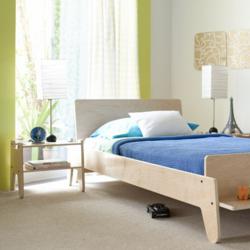 We now have kids furniture that can't be found in other online stores.
New York, NY (PRWEB) May 02, 2013
After pinning their growth strategy on developing and working with vendors to produce and a line of exclusive kids furniture, they are now seeing growth from this strategy. According to Carmen, the store's director of merchandising, the exclusive designs are quickly becoming best sellers. "We now have items that can't be found in other online stores, and that is a rarity in today's ecommerce world, where so many stores carry the same products as all of the other stores." They are seeing particularly strong growth in their line of kids beds and also in their line of kids tables and chairs. In their kids beds department their exclusive BB2 Twin Bed made from Birch wood has become a bestseller. According to the store, their best seller in the kids tables department is the Aero Table by Sodura. They now have three exclusive play tables,and one of which is the Modern Train Table has risen quickly to become one of their top three kids tables after carrying the table for less than six months.
Moderntots was founded in 2009 as an online store that is focused on a curated collection of modern and design oriented kids furniture and toys. They have developed a reputation for high quality and innovative products over the past years. According to the store, this new strategy came about from frustration in finding new products that meet their quality standards and design standards. The first of the line was the play table, of which there were virtually none on the market in the modern category that were made well and had the design elements that Modern Tots is known for, according to Modern Tot's representatives. So, with their play table, they have developed a table that first and foremost has modern styling, and also has quality construction and is made from non-toxic materials, like low-VOC finishes.