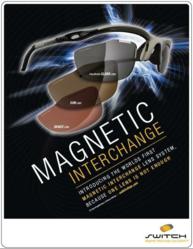 This means high-performance athletes and people who are serious about outdoor sports are able to see better—and perform better—in any sport and in any light condition
San Rafael, CA (Vocus/PRWEB) July 19, 2011
Optique de Fleur Opticians in San Rafael is featuring an incredible innovation in sports performance eyewear: Switch sunglasses. This stylish and durable line features an "insanely quick and easy" magnetic lens-switching system, so users can change out the lenses as needed for maximum performance in a variety of lighting conditions. Every pair comes with two lens types (each optimized for specific lighting conditions) and can be customized with Rx and other specialty lenses. Switch sports sunglasses are available in seven fashionable and durable frame styles in various colors.
The Magnetic Interchange Lens System™ harnesses the power of small, powerful magnets in the lens and frame to allow for lens-switching on the go. "This means high-performance athletes and people who are serious about outdoor sports are able to see better—and perform better—in any sport and in any light condition," Switch Vision CEO and co-founder David Chute explained.
Each Switch frame comes with a polarized lens or sun lens, and a low-light lens. Spare lenses are kept in a durable LensPod case that fits easily in a pocket. Sun readers are available to allow up-close reading in bright sunlight. Switch also features specialty lenses for activities including skiing, golf, mountain biking, running and more. General purpose and specialty lenses are even available in a prescription. The lenses are made of durable polycarbonate coated with TriGuard™, making them scratch resistant, shatterproof, water repellant and smudge resistant.
Bay Area eyewear boutique Optique de Fleur Opticians carries seven stylish frames of Switch sunglasses, all specially designed to fit comfortably and securely, withstand aggressive activity, and prevent light penetration. The lenses are engineered to stay securely in the frame when dropped from a height of six feet and when subjected to repeated jarring from sports such as skiing, running or mountain biking.
As soon as they hit the market, Switch sunglasses were met with rave reviews. Ski Magazine said, "Many have tried; most have failed to create a truly user friendly interchangeable sunglass lens for outdoor athletes, then came Switch Vision." Runner Triathlete News marveled at their simple design: "Hold the lens in the general area of the magnetic frame and the lens literally jumps out of your hand and into the frame. It actually works very well and the lenses are held very secure!"
For more information about Switch sunglasses or any of Optique de Fleur's products or services, call them at (415)578-9872 or visit their shop located at 1526 5th Avenue, San Rafael CA 94901.
About Optique de Fleur
Optique de Fleur, formerly known as Toso Optical, provides eyewear to San Francisco Bay Area residents. The San Rafael eyeglasses shop has the latest styles in eyewear for men, women and children of all ages. Optician Fleur Nelson will help clients find the most attractive styles to suit their faces and lifestyle with the most effective and technologically advanced lenses available in today's marketplace. They also carry sunglasses, sport glasses and contact lenses for the entire family. Business hours: Monday-Friday 9:30-5:30; evenings by appointment.
###