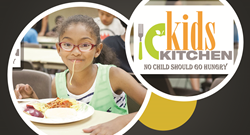 "It's sad to think that so many children in our community don't know where their next meal is coming from. Kid's Kitchen is such a blessing to kids in need and we are so excited to fundraise for them so they can feed even more kids in need."
Anchorage, AK (PRWEB) January 26, 2015
With agencies in Anchorage and Wasilla, AK, Devery Prince Agency celebrates the beginning of a new charity campaign as part of its ongoing Community Program, now looking to raise funds to provide healthy and nutritional meals to hungry children in their community. In collaboration with Kid's Kitchen, the agency announces that those with a heart for supporting the overall wellbeing and developmental necessities of children in need can now join the agency's efforts by contributing through the designated donations page at http://www.razoo.com/story/Feeding-Kids-With-Kids-Kitchen.
Devery Prince, the agency's principal, who has helped touch the lives of many other kids in the communities where his agencies are inserted, attested, "It's sad to think that so many children in our community don't know where their next meal is coming from. Kid's Kitchen is such a blessing to kids in need and we are so excited to fundraise for them so they can feed even more kids in need."
The agency has set a goal of $500. To achieve that goal, the agency's network of customers, business partners, friends, staff and family are being invited to actively participate by not only contributing financially, but also by helping spread the word to others.
Devery Prince Agency continues to employ its own resources to ensure the success of their community program. The current campaign is being promoted through the agency's social media channels, email and text message communications, as well as through their monthly magazine, delivered to thousands of households in Alaska. In fact, Our Hometown magazine reserves a full page to feature this worthy cause, including all of its details. The electronic Flipbook version of the current issue can be accessed here: http://www.deveryprinceagency.com/Our-Hometown-Magazine_43.
The donations page at http://www.razoo.com/story/Feeding-Kids-With-Kids-Kitchen will be kept active until the end of February, where donors can contribute. The agency will acknowledge in their monthly magazine all of those who donate a minimum of $5 to help with the purchase of nutritional meals for kids in need.
Devery Prince Agency will continue to work with individuals and nonprofits in the area to identify new worthy opportunities to support the community, every 30-90 days. Through the agency's website, any members of the community can also submit information on known families or persons who could use some help – http://www.deveryprinceagency.com/Submit-A-Community-Cause-Idea_49. Entries are diligently submitted for review, and the elected worthy causes are properly contacted by a representative of Devery Prince Agency's Community Program. More information regarding past and current campaigns supported by Devery Prince Agency can be found at http://www.deveryprinceagency.com/community-cause.
About Devery Prince Insurance Agency
Serving from offices in Anchorage and Wasilla, AK, Devery Prince Insurance Agency is committed to bringing local communities an insurance agency that understands their needs. Taking pride in its team of professionals by day, and PTA members and childrens' sports coaches by night, Devery Prince Agency works with carriers to assemble a variety of products and services for its customers. From all of the products a typical consumer needs (home, auto, boat, ATV, etc.,) to all financial services products and tools (retirement, savings, long term care, disability, etc.,) and business insurance (liability, building, auto) to workplace and individual benefits (accident, critical illness, cancer, disability, life), Devery Prince covers all the bases for insurance needs in South Central Alaska. More information about Devery Prince Agency is available at http://www.deveryprinceagency.com/. To immediately reach an expert at the agency, call (907) 279-9000, or (907) 376-7638.