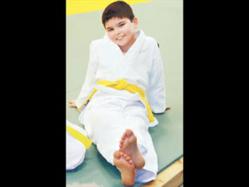 Children who are victimized by bullying become increasingly powerless and find themselves trapped in relationships in which they are being abused. PREVNet.
Toronto, ON (PRWEB) August 31, 2012
In Toronto, parents are taking affirmative action by enrolling their kids in martial arts clubs that espouse social solidarity; like Budokai Judo Club of Toronto, which provides professional judo instruction to children of all ages.
Though often associated with self-defense, the principles of judo are based, first and foremost, on respect of oneself and of others. Beyond teaching self-defense and increasing fitness levels, the practice of judo instills in students a moral compass.
PREVNet - a national coalition committed to promoting relationships and eliminating violence - believes that, at its core, bullying is a relationship problem. According to them, "the lessons of power and aggression in bullying…can transfer to other relationships through sexual harassment, dating aggression, workplace harassment, as well as marital, child, and elder abuse."
Sensei Rick Koglin, who, along with partner Ray Litvak, owns and operates the club, was drawn to judo primarily for its ability to prevent victimization. At Budokai Judo Club, martial arts lessons set the stage for happy, healthy relationships inside and outside of the classroom. One of the main tenets of judo is "Jita Kyoei" – translated as "mutual welfare and benefit".
"In judo, students work together to practice their throws and grappling. They are not always evenly matched in size and strength and therefore quickly learn the limits of what would or wouldn't harm their partner" Koglin explains. In order to avoid losing their partner to injury and having no one to practice with, his pupils are careful not to cross those limits and fair play becomes the status quo. According to Litvak, parents often notice children transfer this principle to relationships within the home and at school.
Judo is a healthy outlet for feelings, such as anger and frustration, which could develop into bullying behaviour. Litvak knows this firsthand. As a boy, he was picked on for being smaller and weaker than his peers. He joined a judo club to address his frustration and self-doubt and hasn't looked back since. The practice helped him work through his troubles and restore his sense of strength both physically and emotionally. Today, he is a successful entrepreneur who possesses the confidence he once lacked.
Jonathan Muir, a student of the martial arts club, has a story similar to Litvak's.He joined the judo club because he was being bullied, and has emerged from the experience as a changed person. His confidence has increased tenfold and he now has a much easier time at school. When asked what he likes best about class, he exclaimed, without hesitation "it is the attention and encouragement I get from my judo instructors." According to his parents, this has made all the difference in their child's life; it's why he's happier and stronger than ever.
To learn more about the best in martial arts clubs for children, contact Budokai Judo Club or call Rick Koglin at (416) 712-6751. Ask about their free 2 week trial offer.
On September 14th at 10:00a.m tune in to daytime Toronto to watch a special segment on how judo can help by 'bully-proofing' your children. Rogers TV's morning show, daytime Toronto is a LIVE lifestyle magazine program showcasing people and businesses from across the city, five days a week –.