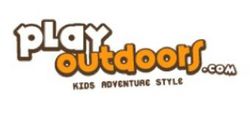 Bend, Ore. (PRWEB) April 10, 2009
Outdoor activities are fun for the whole family; both kids and adults alike should spend time exploring nature. With Spring and Summer approaching, now is the time for bike rides, family hikes, camping and trips to the lake. Getting outside with the family is fun, but kids outdoor safety is an important factor not to be overlooked when planning an adventure outside.
Sarah Laufer, CEO of Play Outdoors, will appear on View From The Bay, a daytime talk show in the San Francisco/Bay Area to speak about the importance of kids' outdoor safety. The program will air Monday, April 13, 2009 at 3:00 pm on ABC.
Laufer will demonstrate great sun and water safety products and camping gear specifically for kids and families.
Sarah Laufer is CEO and creator of PlayOutdoors.com, an online retailer of kids' specific outdoor gear and apparel based in Bend, Oregon. Laufer is a mom to two young children, an outdoor professional and entrepreneur. She believes, and has modeled PlayOutdoors.com around, the ideal that kids need to spend more time outside exploring the outdoors. She has created PlayOutdoors.com as a resource for parents to get ideas and find the necessities for any outdoor family adventure.
About Play Outdoors
Play Outdoors' priority is to help families with young children get outside and enjoy the world around them. The company is based in the outdoorsy and adventurous town of Bend, Oregon, and offers stylish kids outdoor adventure clothing and gear from trusted, dependable brands. Play Outdoors is an ecologically- and socially-conscious business and seeks out manufacturers and service partners who are like-minded.
###