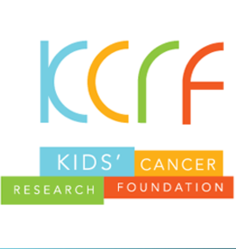 To get this kind of response from them is a huge honor and affirmation that we're on the right track.
San Francisco, CA (PRWEB) December 07, 2012
Kids' Cancer Research Foundation (KCRF), a 501(c)(3) nonprofit located in San Luis Obispo, California, is pleased to announce it has received a $25,000 grant from Amgen Inc. for the second year in a row.
KCRF is devoted to providing financial support for exceptional new research and clinical trials that will cure Neuroblastoma (NB), the leading form of cancer among infants. According to government statistics, the average years lost for all cancers is 15. Neuroblastoma steals, on average, 69.3 years from each child – an entire lifetime.
The KCRF strategy is to help the researchers of tomorrow launch their work in the earliest stages, at a point when they often need that critical first opportunity. What began as one father's search for a cure for his daughter has evolved into a foundation based on those years of experience—and the expertise of a medical advisory board consisting of the some of the top pediatric cancer researchers in the country.
Under Founder and Executive Director Frank Kalman's leadership, KCRF is proactive and aggressive. Kalman attends half a dozen conferences each year and initiates discussions with the men and women conducting crucial early research in the field. To date, this approach has yielded remarkable preliminary results: the first group funded by KCRF, based at Texas Children's Hospital-Baylor, reported a 30% reduction in relapse rates for the children involved in the trial. "Put simply," says Kalman, "they are saving lives. They recently established proof of concept and the National Institute of Health decided this therapy was worthy of a multi-million dollar investment."
Both Amgen grants directly supported the project at Baylor. "The folks at Amgen are the standard-bearers in pharmaceutical research," Frank Kalman said. "To get this kind of response from them is a huge honor and affirmation that we're on the right track. We are very grateful for Amgen's support, and their ongoing work in trying to cure pediatric cancer."
Further information about Kids' Cancer Research Foundation can be found at http://endkidscancer.org/.
About Amgen
Amgen discovers, develops, manufactures and delivers innovative human therapeutics. A biotechnology pioneer since 1980, Amgen was one of the first companies to realize the new science's promise by bringing safe and effective medicines from lab to manufacturing plant to patient. Amgen therapeutics have changed the practice of medicine, helping millions of people around the world in the fight against cancer, kidney disease, rheumatoid arthritis, bone disease and other serious illnesses. With a deep and broad pipeline of potential new medicines, Amgen remains committed to advancing science to dramatically improve people's lives. To learn more about our pioneering science and our vital medicines, visit http://www.amgen.com. Follow us on http://www.twitter.com/amgen.