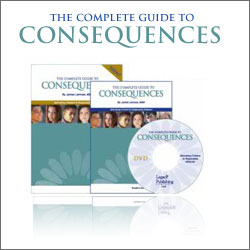 Kids Who Ignore Consequences: 10 Ways to Make Them Stick
Westbrook, ME (Vocus) March 30, 2010
How do you give consequences that really work? Parents are constantly told to use consequences to manage their child's behavior, but what do you do when your child doesn't respond at all—or even says they don't care? In the online parenting magazine Empowering Parents, James Lehman, MSW, renowned child behavior therapist and creator of The Total Transformation Program, writes about 10 real ways parents can make consequences work for their child. Not surprisingly, "Kids Who Ignore Consequences: 10 Ways to Make Them Stick" is the most-shared article in the magazine's three year history. In its first week, thousands of readers emailed it to friends, relatives and colleagues, and pageviews of the article topped 23,000 in its first week.
Empowering Parents, the website and newsletter that gives parents straight talk and real results, receives comments like the following every day:
"My 14-year-old just shrugs when I take away his video games or iPod. Nothing works with him."
"My teen daughter gets grounded for breaking curfew, stays in for a few weeks, and turns around and does it again. I'm so frustrated. Why isn't she learning from the punishment we're giving her? And how do you give consequences to teens?"
"I've told my 9-year-old time and time again not to talk back. I tell him all the reasons why he should be respectful, but he just ignores my speeches. What am I doing wrong?"
Elisabeth Wilkins, Editor of Empowering Parents, is not surprised to receive so many questions on the subject of consequences. "Parents need some specific tools to deal with their kids' acting-out behavior, and consequences are often put forward as the answer. But consequences for child behavior can be tricky to use effectively, which is why James' direct, easy-to-follow, non-judgmental style help parents navigate this territory—plus, his advice really works." Says Wilkins, "EP's readers are not only parents, they are teachers, counselors, social workers, pediatricians, and other professionals who work with kids and families. It's gratifying to hear from readers from all walks of life who keep writing in to tell us this is the best article on consequences they've ever read. It's exciting when you see families implementing real solutions and changing their lives for the better."
In addition to the Total Transformation Program, James Lehman has also created a best-selling program called The Complete Guide to Consequences.
James Lehman is a behavioral therapist and the creator of The Total Transformation Program for parents. He has worked with troubled teens and children for three decades. James holds a Masters Degree in Social Work from Boston University. Information on Mr. Lehman's parenting techniques can be found at http://www.thetotaltransformation.com. The Total Transformation Program has sold more than 200,000 units to date.
###