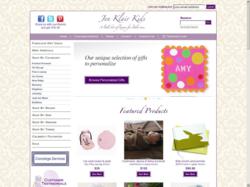 We continue to search all over the world for fabulous new products to bring to our loyal customers
San Diego, CA (PRWEB) September 06, 2012
Jen Klair Kids recently added a Concierge Baby Planning Service. "We are so excited about our new baby planning concierge service at Jen Klair Kids," says Klair. "We provide a variety of baby planning services to parents in any stage of pregnancy and beyond. All of our services can be customized to any need or budget. Services ranges from shopping local stores with the new mom to helping create her baby registry to planning the baby shower to nursery design & preparation to baby food making after baby arrives to grocery shopping for her when she needs a little break. We offer gift certificates for this service and they make a great baby shower gift for mom (and dad) to be," she added.
Jen Klair Kids (http://www.jenklairkids.com) launched in 2002 with a small selection of handmade and unique children's products. It all began when founder, Jen Klair wanted to make a keepsake baby blanket for her two daughters, now ages 14 and 12. "We started Jen Klair Kids back in 2002 with all handmade products made mostly by stay-at-home mom designers, including my own mother," recalls Klair. "It has evolved over the past 10 years into an online children's boutique specializing in unique and luxurious gifts created by designers from all over the world. We also take great pride in our products that are made here in the USA such as Sweeters, Butterscotch Blankees, Malley & Co., Posh Mommy jewelry, Wendy Anne Moses baskets, Luxe Baby and more," she added.
Jen Klair Kids specializes in unique and luxurious products for baby, child and mom. They have recently added a gorgeous line of pure cashmere blankets and clothing by a fabulous designer in the United Kingdom. Each piece is meticulously knit by hand and the line has quickly become the most popular WOW gift bought by customers who want a one-of-a-kind baby gift.
They also have a wonderful line of personalized gifts engraved in silver or gold, hand knit in cashmere or embroidered on cotton. They carry gorgeous diapers bags for mom and dad by the well know lines of OiOi, Fleurville and Diaper Dude. They have a great selection of beautiful baby journals and photo albums by Terra Traditions, Mother Storks Baby Book & Binth. Some of the albums can be custom embellished with Swarovski crystals, too.
Some other high quality products you will find at Jen Klair Kids are luxurious baby & children's bedding, satin & silk blankets, convertible cribs & beds, chenille & velvet blankets, custom baby gift baskets, Moses baskets, personalized children's robes, baby shower gifts and so much more. "We continue to search all over the world for fabulous new products to bring to our loyal customers," says Klair.
They have quite a fan base on Facebook (https://www.facebook.com/jenklairkids) and Twitter (https://twitter.com/jenklairkids) and continue to offer their fans giveaways and special discounts.
For nearly 10 years, Jen Klair Kids has been a supporter of a local charity organization, Binky Patrol who provides handmade blankets to children born HIV positive, drug-addicted, infected with AIDS or other chronic and terminal illnesses, those who are abused, in foster care or experiencing trauma of any kind. http://www.binkypatrol.org.
Also, a special thanks to Areti Web Innovations who Jen Klair Kids hired to update the Website for the launching of the new Concierge and Baby Planner services.
Contact us at 951-265-6230 and come and visit us at our web site at http://www.jenklairkids.com