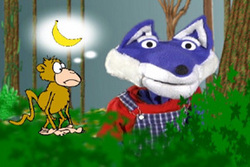 I spent over $1,500 buying different types of resources
Albuquerque, NM (PRWEB) September 3, 2008
Tim Keller, former engineer at Honeywell cashed in his pension to develop Spanish Champs, a bilingual Spanish program for children. With consultation from top linguists in the country, like John Staczek, PhD in Linguistics from Georgetown, Keller formed Progressive Language. "I feel very passionately about raising bilingual children, so I 'put my money where my mouth is' and cashed in my pension to develop Spanish Champs," said Keller, CEO of Progressive Language. After three years in development, Progressive Language is excited to announce release of the Spanish Champs bilingual Music CDs and video DVDs Levels 1 and 2.
A lover of languages, Keller spent years learning Spanish and German, and traveled extensively in Europe and Mexico. Teaching his own four children Spanish from birth, he quickly realized that he needed resources to help. "I am gone most of the day, and my wife doesn't speak Spanish, so we needed a way to incorporate Spanish into our home when I am not there," said Keller. He bought hundreds of books and dozens of music CDs and videos to use with his children. "I spent over $1,500 buying different types of resources," said Keller. "After using so many different programs, I had a good idea of what worked, and what didn't. When we developed Spanish Champs, we modeled some of the best features from what we saw, but also developed our own, patent-pending learning methodology."
Keller launched Progressive Language, and then built a small movie studio where the videos could be filmed. "We not only built the studio and sets from scratch, but my wife and I also designed and built the puppet characters we use. I have had professional puppeteers tell me that our main puppet, Blue Wolf, rivals the Muppet puppets." Keller hired professional musicians, award winning videographers, writers, artists and bilingual teachers to help create Spanish Champs, and he especially loved working in the music studio. "Music is such a powerful way to learn Spanish, and we worked hard so ours would be really good," said Keller.
Keller is a big proponent of teaching Spanish through songs and stories, "Music is actually the best way to begin teaching Spanish, but you can't stop there, you need visual reinforcement, and this is why Spanish Champs includes not only fun and dynamic songs, but also lively videos full of stories, games, and skits; so children, parents, and teachers can learn Spanish while having fun."
Spanish teachers use Spanish Champs with their own children at home, like Eva Thaddeus in Albuquerque who said, "I wanted to reiterate how much my son loves the music and video... The big deal for me is that he is producing lots of Spanish - singing along, very enthusiastic."
"It is very gratifying for me to see bilingual teachers bringing Spanish Champs home to teach their own children Spanish," said Keller.
The Spanish Champs resources are already being used in homes and classrooms across the world, including the U.S., Australia, Ireland, Hungary, and others. "I have been surprised at the response from other countries, I didn't expect it, but I am thrilled," said Keller. "We sold out before our official launch, and we are rushing through a bigger production run this time."
Keller risked his retirement funds to teach kids Spanish, but feels in the long run it will pay off. He said, "My focus is to create excellent resources, and if we continue to do this, Spanish Champs will provide me with a good retirement."
Watch Demo of Spanish Champs Bilingual Program Level 1
Listen to Spanish Champs Fun Spanish Songs.
About Progressive Language, Inc.:
Progressive Language develops multimedia learning resources and curricula to teach Spanish or English to children, including the Blue Wolf & Friends ESL program, and the Spanish Champs bilingual Spanish program. Progressive Language's multimedia resources are used at home, in preschools and grade schools throughout the world.
###