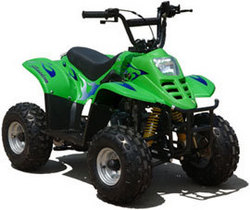 Black Friday and Cyber Monday Specials are huge this year, will super deals and Great Savings
Madison, WI (PRWEB) November 30, 2010
This Christmas Small Kids Atv's are in demand and with holiday sales heating up there are some great deals online that every Holiday shopper should consider. The factors considered in the search where as follows; price, shipping costs, accessories, warranty and company and deals.
Here was a deal that near the top of the list. A 110cc Small Kids ATV for $599 delivered anywhere in the United States for free and it came with an $80 Kids ATV helmet that was included with the purchase. This kids ATV came with a 6 month parts warranty and came in a wide range of colors from solid red, blue, Green Army camouflage to pink army camouflage.
Of course safety is always the number one concern when dealing with kids and machines and that's exactly what we found when looking into these cheap prices Atvs. Most youth ATV come with a speed limiter which lowers the top speed of the child's ATV down to as low as 5 mile per hour, so your child can learn the machine at a slower, safe pace. Second is that these kids atvs have remote control key chains that allow you to turn off the ATV with the push of a button so, if junior is doing something that he or she shouldn't be doing then with a push of a button the ATV is off and you are in control. Most of the Small youth Atv's that where found had these safety features but, if you are considering one for a gift this Christmas make sure the ATV has these features.
One thing to recommend if your searching for the best online company to purchase a Kids Atv from is to consider this WARNING, don't just click on the first pay per click Ad that comes up in the search engine. Anyone can spend $20 and put on a pay per click Ad to drive traffic to their site, we suggest using the organic search area of the search engine because the most related sites will appear for the topic and we found the higher the site in the natural searches have the best deals and are the most reliable. If you where to enter the search term "cheap atvs" take a look at all the pay per click Ad's for that search term, now realize that 80% of those companies just drop ship from the top 5 companies under the organic search that appears lower on the page. Most of thoses companies that use the pay per click Ad's where found don't even have a physical store front, they are people using their computers in their homes playing middlemen and drop shipping from the larger companies.
In doing some Internet searches this site stood out and they specializes in the sales and service of Kids Atvs and they have been in business for over 6 years and they have a network of warehouses across the nation along with a reliable record of satisfied customers. For more information on youth Atvs please do a google search for Q9 Powersports, LLC or call them toll free at 1-888-252-9250.
###