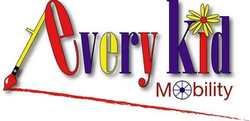 Hugo, MN (PRWEB) August 27, 2009
Every Kid Mobility Inc., the online home of Creative Crutches, announces that their customized crutches and personalized canes are now available through durable medical equipment vendors.
That means that crutch and cane users of all ages can use their health insurance to purchase mobility devices and pay EKM a fee to decorate them.
EKM is accepting applications from medical suppliers and anticipates having providers in all 50 states by the end of the year. The first authorized vendor is Handi Medical Supply, Inc., located in St. Paul, Minn.
Minneapolis-based Every Kid Mobility Inc. transforms what has traditionally has been viewed as a stigma - crutches and canes- into, of all things, colorful, custom-designed fashion props. The success stories are numerous and heart-warming - like the girl in South Dakota who had been ashamed to take her crutches to school - until, that is, she was equipped with crutches covered with pink dragons.
"Every Kid Mobility allows you to be seen for who you are by offering designer crutches in sizes that range from toddler to adult," Sally Brown, the companies owner and founder, explains.
Anna, the 3-year-old daughter of Annie Beth Donahue of the Charlotte, N.C., area, "wouldn't even use crutches," Donahue remembers, "until she discovered she could have them in pink!"
That's "her" color, Anna's mother says. "She is very fashion-minded, very motivated by fashion." Before Every Kid Mobility's set came along, Anna was holding onto furniture, to people's hands and using a walker. The crutches "allow her to get closer to people and to things than she could before."
Ms. Brown knows well how important the decorated equipment can be. She has cerebral palsy and used crutches during much of her childhood.
"I use a leg brace now, and sometimes a cane, on the days that I am especially tired or stressed. But, you best believe that my canes are awesome," she says.
"When my grandbaby twins were born last year, we immediately figured out how to decorate canes with their photographs. Our site lets our customers upload their own photographs to our server. We use them to create personalized canes that anybody would be proud to carry."
Most of EKM's crutches are in the $175 to $200 range, with bariatric crutches for people with obesity, priced at $350. Canes, with photographs applied, average $80.
Brown also works with makers of specialty bicycles to provide adaptive bikes to children with disabilities.
Rob MacFarlane understands the joy. As general manager of Winnipeg, Manitoba-based Freedom Concepts, he watches his team of more than 20 bicycle-builders derive indescribable satisfaction from creating bikes for special-needs individuals.
"They don't treat it like a 9-to-5 job," he explains. "Seeing kids who never even walked ride a bicycle makes them feel they are doing something for the community." In this case, the community is the world.
In its three-and-a-half years in business, Every Kid Mobility has sold 178 pairs of crutches (most of them since mid-March) and 286 adaptive bikes.
Besides Freedom Concepts, Brown's organization sells adaptive bikes by Rifton, Reha-Partner, Blackbird Bikes, Just Two Bikes, Triad, Trailmate and Versatrike. Dedicated to personal service, Brown assures every bicycle is fitted to the specific user.
Brown is a Mississippi-born former stand-up comedian with a dry wit whose on-stage repertoire included stories about living with a physical disability.
There's the one, for example, about the four-day AIDS fundraising bike ride she took in honor of a deceased friend. At various points along the way, she says, "I hung a handicapped sticker on my bike so that I could have the parking spot closest to the porta-potties."
In fact, her disability was no handicap. She was 50 when she made the ride, covering 350 miles of southern Minnesota.
Another fact that is no joke is her commitment to finding funding sources to help families afford her adaptive bicycles, which can cost between $1,100 for a cycle to more than $5,000 for a tandem.
"Riding a bike is a rite of passage, so much a part of childhood," says Brown. "I am still amazed at the difference they make. The expenses of caring for a child with special needs are staggering, so we all have to step up and take some responsibility for making this happen."
Brown also is the author of a children's book, "The Big Red Bike," the story of 9-year-old Savannah Tate, who walks with a crutch, rides a bike and, with her courage, touches the lives of others.
###