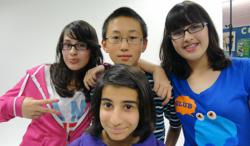 Before kids make bad choices, we mentor youth with life-success skills now.
Toronto, Canada (PRWEB) January 25, 2012
With the goal to empower kids within Canada, youth charity, kids.now http://www.kidsnowcanada.org announces January 25 as Youth Mentor Day. Before kids start to make bad decisions, such as with drugs, alcohol, bullying and poor school involvement, kids.now is a solution to these potential problems and mentors youth with life – success skills now.
This January and throughout the year, kids.now is empowering youth in grades 7 & 8 with life skills to make positive choices and to turn away from risky behavior, at this critical transitional age. They are reaching out to the Canadian public to also help make a difference in their community. kids.now is looking to increase their roster of volunteer mentors by requesting the public to sign-up to become a mentor or donate to the organization this month.
The campaign goal in 2012 is to deliver the program to 2,500 youth participants in grades 7 & 8 within Canadian cities such as Toronto, Pickering, Whitby, Ajax, Aurora, Markham, Thornhill, Richmond Hill, Peel/Halton, Mississauga, Brampton, London, Hamilton, Port Colborne, Etobicoke, Fredericton, Saint John and Edmonton. With the focus on priority neighborhoods, kids now works with self-selected youth, by working towards creating positive solutions for long-term success.
With youth programs delivered in 12 consecutive weeks, kids.now provides youth with life skills and attainable goals, with the focus on five core elements: Self Esteem, Goal Setting, Conflict Resolution, Communication Skills and Stress Management. kids now matches one volunteer mentor with 10 students in a curriculum-based program that builds on these important life-success skills. The program takes an anti-bullying focus and includes interactive games, skill-based activities and group discussions.
How to Donate or Become a Mentor
To help kids.now reach their 2012 goals, the public can donate by:

"Working together with the public to build a stronger environment for Canadian youth mentorship in Canada lays the foundation for stronger families and communities across Canada. Today's youth will be representing the identity of Canada in the coming years. Let's prepare them with proper guidance that will lead to positive success for years to come," says President and Founder of kids.now, Janet King.
Statistics and Facts

A recent Ipsos-Reid/kids now/State Farm survey indicates that 96 % of Canadian parents rank self-esteem as the most important factor for high school success, above academic skill or athletic ability. This finding was consistent across all provinces, age groups and education levels.
Research shows that youth involved in mentoring programs are less likely to start using drugs (46%) and alcohol (27%), have improved attitudes that have improved their school performance and peer and family relationships.
According to the UN Report Card on Child Well-Being, Canadian youth rank in the bottom third of youth in 21 OECD countries for family and peer relationships, behaviour and risks, and subjective well-being (how youth feel about themselves).
"Almost half of low-income students make their decision about post-secondary education before they even set foot in high school," says research conducted by the MESA.
Youth mentoring programs have been shown to result in lower rates of school absenteeism, reduce violent behaviour and improve self-esteem.
kids.now gives young people the opportunity to gain social and emotional skills that enable them to make positive choices and reach their potential. These capabilities are not only instrumental to achieving better performance in school and personal life success, but help to build strong communities. Society benefits when its members are educated, employed and empowered.
About kids.now
kids.now is a charitable organization empowering 7th and 8th grade students through free, in-school after-school group mentoring programs in communities across Canada. Since 1999, kids now volunteers have helped more than 11,000 youth believe in themselves and achieve their full potential. The kids.now programs consist of 12-week programs that are geared towards building self-esteem, goal setting, conflict resolution, communication skills and stress management. Led by volunteer coach-mentors, many of whom are employed by leading companies, the kids now program features an educator-endorsed curriculum that includes educational games, activities and group discussions. To find out more about kids now go to http://www.kidsnowcanada.org
###