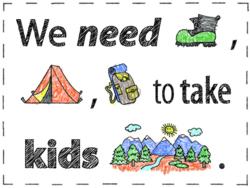 This program of loaned gear coupled with NCI's efforts at introducing kids to wild places will impact thousands of kids' lives. We're thrilled to be a part of that.
Bellingham, WA (PRWEB) April 17, 2012
McNett®, the leader in quality, innovative outdoor products, is collecting outdoor gear in an effort to get kids outside. McNett has re-launched its "Take a Kid Outside" program with the help of local non-profit, the North Cascades Institute (NCI), and needs new, discontinued or gently used outdoor equipment to help kids get outfitted for outdoor activities like hiking, camping, backpacking and fishing.
"We know that having the right gear for outdoor adventures is not feasible for all kids," said Travis Huisman, chief operating officer at McNett. "This program of loaned gear coupled with NCI's efforts at introducing kids to wild places will impact thousands of kids' lives. We're thrilled to be a part of that."
To help kick-off their partnership, McNett and NCI will be selling $5 raffle tickets at the Andrew Skurka Circling Alaska & Yukon presentation being held in Bellingham on Tuesday, April 17 at the Mt. Baker Theatre's Walton Theatre at 7 p.m. as well as the Ultimate Hiking Gear & Skills Clinic, which takes place Thursday, April 19 at the Mt. Baker Theatre's Encore Room at 7 p.m. The winner gets a Mountain Hardware Viperine tent and 100% of the proceeds will be used to buy equipment for the "gear locker."
"We are thrilled to be a part of 'Take a Kid Outside' with McNett," said Institute acting executive director Jeff Giesen. "North Cascades Institute takes kids from a wide variety of backgrounds outside in a wide variety of weather, and the gift of outdoor gear will help us a lot in our efforts. It's more important than ever before to nurture the bonds between young people and the natural world. Having the right equipment is essential!"
McNett is re-launching the "Take a Kid Outside" program as a regional initiative with the help of NCI. As the two organizations begin building a gear locker the program will be expanded nation-wide.
"We have lofty goals, but as the saying goes, 'even the biggest journey begins with a single step,'" said David Wiggs, vice president of marketing at McNett. "We're starting locally, with an intention to expand nationally and we need help from consumers, brands and retailers to start this journey."
If you would like to donate outdoor gear or for more information, please contact McNett via http://www.mcnett-outdoor.com/Contact-Us/127.aspx.
About North Cascades Institute
North Cascades Institute seeks to inspire a closer relationship with nature through direct experiences in the natural world. Their mission is to conserve and restore Northwest environments through education. Since 1986 the Institute has helped connect people, nature and community through science, art, literature and the hands-on study of natural and cultural history. Their goal is to help people of all ages experience and enjoy the mountains, rivers, forests, people and wildlife of the Pacific Northwest -- so all will care for and protect this special place.
About McNett
For over three decades McNett and its family of brands, Gear Aid™, Outgo™, M Essentials™, Aquamira® and Camo Form®, have provided quality, innovative products for the dive, outdoor, sporting goods and military markets. Through long-term relationships and a great distribution model, McNett enhances the lives of people working and playing outside.
McNett believes in being a good corporate citizen, which includes lending support to causes and organizations including: the National Breast Cancer Foundation, Rivers of Recovery, the Oceans for Youth Foundation and Hunting with Heroes. For more information visit: http://www.McNett.com.
Contact:
David Wiggs
Marketing VP
360-671-2227
###