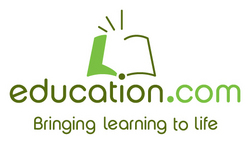 We wanted this Summer Reading Guide to be full of page turners -- books that would really electrify kids
Redwood City, CA (Vocus) May 12, 2010
Education.com, a leading web destination for parents of school-aged children, unveiled its 2010 Summer Reading Guide today, in time for Children's Book Week (May 10-16). This year's guide, developed by Education.com's editorial team with input from parents, teachers, and students, showcases newly published books chosen for their potential to keep young readers engaged and excited throughout the summer.
Research consistently emphasizes the impact of summer reading on students' academic success. Studies repeatedly show that children who do not read during the summer demonstrate a significant loss in reading skills, while students who read just five to six books through the summer perform better during the following school year. In creating its list of age-appropriate, well-written, and engaging books, Education.com endeavored to support parents' efforts to avoid this achievement loss, frequently referred to as the "Summer Slide."
"We wanted this Summer Reading Guide to be full of page turners -- books that would really electrify kids," explained Education.com's Editor-in-Chief Danielle Wood. "Like many adults, kids gravitate toward light reading during the summer. Research tells us it really doesn't matter what kids read during the summer, it's just critical that they do read. The books on our guide are not books that kids are going to feel like they have to read. There are a couple of selections with more serious themes, but mostly they're stories full of adventure about characters that young readers can really identify with. I think even reluctant readers will really lose themselves in these books."
The Education.com Summer Reading Guide is organized by grade level with five to seven fail-safe recommendations for each grade. Each grade's list includes some books that are likely to appeal to boys and others that will be more attractive to girls. There are books appropriate for kids reading above grade level, as well as books suited for more challenged readers. Wood emphasizes "there's going to be at least one book on this list that every kid will love."
While most public library lists tend to focus on long-standing favorites, Education.com's picks are almost exclusively newly published, with one or two classics thrown in for good measure. From books that are coming out right before the major motion picture release, to series with enough installments to keep kids busy long after school rolls around, these books will keep kids excited about reading all summer long.
Education.com's 2010 Summer Reading Guide (and information about where each book can be purchased) can be found at http://www.education.com/seasonal/summer-reading/ .
About Education.com
Education.com provides millions of parents of school-aged children free access to information and resources to give them answers they need about raising and educating their children -- plus activities designed to make learning together more fun for everyone. Often called ''The WebMD of education'', the company has teamed up with the leading universities, non-profits, and research organizations in the country to offer highly credible parenting, developmental, and educational information. The site also offers printable activities, discussion boards, access to best-of-breed educational services, and SchoolFinder -- a tool that gives parents comprehensive data on the nation's 125,000 public, private and charter schools. Education.com was founded in 2006 and is headquartered in Redwood City, CA. The company is backed by leading venture capital firms, Azure Capital Partners, TeleSoft Partners, and California Technology Ventures. For more information, please visit http://www.education.com .
###