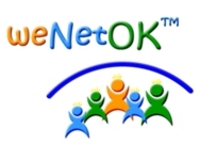 Protecting Children in the 21st Century Act
Hood River, OR (PRWEB) April 20, 2009 -
Good Wind Software is happy to announce the release of weNetOK, a program providing safe Internet browsing for young people.
Young people need protection when browsing the Internet. Teachers and parents need to supervise them. weNetOK offers a simple solution for teachers and parents. The program setup is quick, no enrollment is required, websites are available immediately, and Internet usage can be monitored from a distance.
weNetOK allows students to browse pre-approved websites on the Internet. If a website contains links to an unapproved website, weNetOK will not allow students to follow the links. For example, a student may freely use a homework-help website, but will not be able to follow a link to a website selling toys. This positive security technology means that teachers or parents do not have to test every link on a website in order to approve it.
Teachers and parents can tailor content; no special technology skills are required. With just three clicks, teachers or parents may add or delete websites. Because weNetOK is network aware, changes are immediately available for all users on the network.
weNetOK blocks email, chat, and downloads. weNetOK doesn't spy on users or track sites visited. With weNetOK, harmful sites are simply not available, offering young people a culture of trust while relieving teachers and parents of an unwelcome "police" role.
weNetOK can change the culture in classrooms, youth centers, homeschools, and homes from watching and forbidding to relaxed and allowing. weNetOK has a distinct visual signal for monitoring from a distance, allowing teachers and parents to work on other tasks while students use computers. No more watching over a young one's shoulders. This is liberating for teachers, parents and students. weNetOK provides safety and freedom.
For schools, weNetOK can be part of the strategy for meeting the requirements of the Broadband Data Improvement Act (S.1492), Title II "Protecting Children in the 21st Century Act" and implementing acceptable-use policies (AUPs). weNetOK is compatible with school computer control programs.
weNetOK is available for the Windows platform (2000/XP/2003/Vista/2008) and may be downloaded at http://www.weNetOK.com.
weNetOK is available in four versions:

Home $9.95
Home Network $14.95 - 3 network seats
Small Computer Lab $29.95 - 10 network seats
Classroom $44.95 - 30 network seats.
The difference among versions is the number of network seats that may be installed. Site licenses are also available.
Best of all, weNetOK has no subscription expense, no nagging to buy add-on products, no in-program advertising, no promotional pop-ups, and no promotion of commercial sites.
Good Wind Software has been creating custom software since 1991. A series of fortunate events led to the creation of this retail product. We are delighted to offer it to schools, youth centers, churches, and homes everywhere.
###