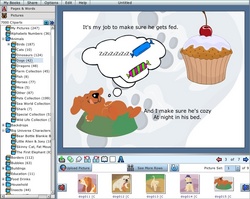 The buzz this company is making is phenomenal
Reston, VA (PRWEB) March 5, 2009
Big Universe Inc., an award-winning Internet newcomer, is taking its educational service to the next level with the launch of its premium subscription, which multiplies benefits on this children's picture books website.
The premium subscription enables online members to read the most beautiful story books in children's publishing in their entirety, as well as print the books they have written using the site's innovative Big Universe Author tool. The website is a cost-effective option for educators struggling with budget cuts during the current economic crisis.
"The buzz this company is making is phenomenal," said Anil Hemrajani, founder and CEO of Big Universe Inc. "Publishers, educators and parents can't wait to get involved with this new service, but that's not that surprising," explained the website's creator. "We have put together a really strong value proposition for teachers and parents, as well as for the children's book publishers, who are partnering with us on this venture."
Members have created more than 5,500 books to date -- stories which can be shared with other site users once the books have been submitted and approved by a review board. Users can track reader feedback and stock personal favorites on virtual bookshelves. Kids can share their favorite books with others and improve their reading, writing and computer skills, as well as their hand-eye coordination as they learn to place text, pictures and animation in self-generated e-books.
"Publishers are beginning to see the value of partnering with Big Universe, because we are helping to raise up the next generation of readers. We put the publishers' books in front of lots of eager eyes, while nurturing a love for the written word and an appreciation for beautiful things -- like great illustrations and words that dance," said Hemrajani.
The site's user-friendly layout has easy-to-read tabs, simplifying navigation around the website. Members can select books to read based on topic, author, age level and reader ratings. Short tutorial videos show how to use different aspects of the Author tool.
Teachers, librarians and parents will be happy to know that premium membership on Big Universe provides the ability to turn off ads and to lock access to any external links. It also provides a way to maintain automatic reading logs - the bane of parents and students alike.
Both, the basic and premium memberships, have an interactive social element, which supports a warm sense of community among members.
"Parents love it, and the social aspect reinforces a positive view of reading among new readers," said Hemrajani, "The children can rate favorites and watch how many people are reading their own books. They have fun, so they tell their friends, who tell other friends. It ends up being a really positive experience."
Big Universe also fosters global awareness through its variety of multi-language books and through its environmentally friendly format, which minimizes the use of paper, reducing the carbon footprint of its members.
In the past year, Big Universe Inc. has been honored with a Mom's Choice Awards seal of approval, the 2008 National Parenting Center's Seal of Approval, the iParenting "Outstanding Product of 2008" Media Award, and the 2008 Parent to Parent Adding Wisdom Award.
About Big Universe:
BigUniverse.com is a free web community for those who love children's picture books. Launched in March, 2008, the site provides access to hundreds of books from well-known publishers, social networking with other bibliophiles, and a writing tool to help parents, kids and teachers author custom-made books. Premium subscriptions with additional content and links to online retailers are also available. For more information, visit http://www.biguniverse.com.
CONTACT:
Anil Hemrajani
Big Universe, Inc.
+1 703 801 2645
anil (at) biguniverse.com
###