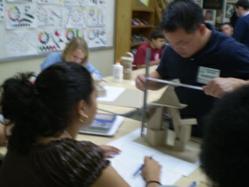 Washington DC (PRWEB) December 02, 2011
Architects draw to express and translate real world concepts and ideas using a common language: plan, section, elevation, and scale. Students will also learn the relationship of models and drawings. Led by Lam Vuong of Esocoff Architects and Andrew Radman of Gensler.
All skill levels. $5.00 per child. Children must be accompanied by an adult. To register email Beth Judy at the Washington Architectural Foundation, bjudy(at)wafonline(dot)org or call 202.667.1798.
'Tools of the Trade' is monthly Saturday education program for children. Upcoming sessions include walking tours, model-making, set design and sustainability activities.
The District Architecture Center (DAC) is located at 421 7th Street, NW and is home to the DC Chapter of the American Institute of Architects, the Washington Architectural Foundation and the Alliance Francaise de Washington. The 11,000 square foot facility includes a gallery open to the public, classrooms and meeting spaces. Everyone is welcome to come and explore at DAC -- where architecture meets the city.
###