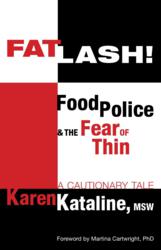 'Over-the-top-food-cops' can't accept an inescapable fact: It's not their body.
Denver, CO (PRWEB) January 22, 2013
From Mayor Bloomberg's "over-the-top-food-cop" behavior to Dara-Lynn Weiss, who just published an unapologetic book about putting her seven-year-old on a diet, and teenagers as the latest contestants on "The Biggest Loser," there is a growing tolerance for "food police" and for putting kids on diets. "Many people just don't have the facts or understand the future consequences," says Karen Kataline, MSW, author of FATLASH! Food Police & the Fear of Thin.
"If we continue down this path of putting kids on diets and allowing some people to police what other people eat, body image distortion and eating disorders will become the norm rather than the exception." she says.
Kataline's experience isn't just professional, it's personal. Her mother put her on restrictive diets at the age of seven and in child beauty pageants—all part of a pervasive, parental obsession with her weight and appearance. It wasn't until her thirties that she discovered her true feelings about it all and why at the age of 16, she weighed 285 pounds.
Kataline spent years struggling to undo much of what she was told had been done "for her own good." Asked what helped her to finally find peace in her own skin, she says, "Ultimately, it boiled down to "The Three B's: Body ownership, Body Integrity and Boundaries." Food Police rob people of exactly the kind of body ownership that is necessary for basic self-esteem and any successful personal change."
"No matter how well-intentioned they may be," she adds, "food cops have trouble accepting the fact that you can't "make" someone lose weight. Just as in Princess by Proxy Syndrome, they live through their children or others and frequently need to be reminded of an inescapable fact: It's not their body."
Kataline's active speaking schedule includes a presentation at the end of the month to the Tri-Delta Sorority on the Denver University Campus. Tri Delta has pioneered programs which foster positive body image for young women like "No-Fat-Talk Fridays."
Karen Kataline, MSW, is an author, speaker and advocate. She received her master's degree from Columbia University and has practiced in a variety of non-profit and corporate settings. She has been an assertiveness trainer and public speaking coach for a Manhattan communications firm and has taught communications and public speaking at the New School for Social Research, Parsons School of Design in New York, New Jersey's Montclair State College, and Fairleigh Dickenson University, among others. She also lends her operatic voice to a variety of fundraisers and community events. Fatlash! is her first book.