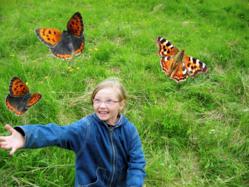 This is a chance for families to be immersed in nature while helping to protect the existence of these small, but essential, creatures.
PASADENA, CALIF. (PRWEB) March 16, 2012
Kidspace guests can adopt a live Painted Lady caterpillar at Kidspace Children's Museum during Caterpillar Adoption Days, March 17 to April 29. Throughout these special days, children can watch their own adopted caterpillar transform into a beautiful butterfly before their eyes.
From March 17 to April 29, Kidspace guests can adopt a live caterpillar and purchase a caterpillar care kit for $4.00 each at the Busy Bee Learning Store. Kidspace admission cost is not required to purchase a caterpillar and care kit. Children can create their own habitat for their adopted caterpillar, and while caring for it at home, they can watch the magic of metamorphosis as the caterpillar grows, forms a chrysalis, and then emerges as an adult Painted Lady butterfly.
Children will return to Kidspace on Saturday, April 28 and Sunday, April 29 with their transformed butterflies to celebrate new life at the 16th Annual Grand Butterfly Release Ceremony.
Over 600 native Painted Lady butterflies will be released each day from the Stone Hollow Amphitheater during this special two-day event. The beautiful butterflies will find their natural food source from the host plants located in the Bee and Butterfly Garden, as well as plants native to the surrounding Arroyo Seco. Kidspace guests are invited to release their newly emerged butterflies along with the hundreds scheduled for release on April 28 and April 29.
"This is a chance for families to be immersed in nature while helping to protect the existence of these small, but essential, creatures," said Susan Cardosi-Albert, Kidspace's Retail and Communications Manager.
During Caterpillar Adoption Days, children have the opportunity to learn more about the life cycle of a butterfly, and are encouraged to bring in a shoebox to build a take-home caterpillar habitat in the Kidspace Nature Exchange.
About Kidspace:
Located on almost four acres in Pasadena, California, Kidspace Children's Museum has more than 25 indoor hands-on exhibits, in addition to its outdoor spaces, programs and activities that are designed to encourage a child's growth and development through exploration of the environment, investigation in science, and artistic expression. Kidspace is located at 480 N. Arroyo Boulevard, in Brookside Park, Pasadena, California, adjacent to the Rose Bowl Stadium. Free parking is available in
Rose Bowl Parking Lot I. Kidspace is open Tuesday through Friday from 9:30 a.m. to 5:00 p.m., Saturday and Sunday from 10:00 a.m. to 5:00 p.m. (Kidspace is open seven days a week between Memorial and Labor Days). Admission for all adults and children one year and older is $10.00. Children under one year and members are free. Kidspace Children's Museum is a non-profit 501(c)3 organization that exists to enrich the lives of children. For sign up information and for a calendar of events, please visit: http://www.kidspacemuseum.org.