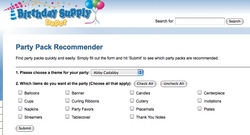 I came up with the idea for this script because I wanted to offer my visitors another way to compare party packs that would be quick and easy for them
Shreveport, LA (PRWEB) April 14, 2009
Let's face it, planning birthday parties and hunting around for kids party supplies can be stressful - which is why busy mom Crystal McLain, owner of Birthday Supply Depot, has created a new, easy to use web script which makes it easy for parents to pick out the right party supplies for their child's birthday theme.
The web script, available at http://www.birthdaysupplydepot.com/recommend/, was designed to quickly search through numerous different types of party packs and return the best results based on what theme and items the parents have chosen.
"I came up with the idea for this script because I wanted to offer my visitors another way to compare party packs that would be quick and easy for them," McLain explained. "It's great for a parent who knows what they want at their child's birthday party,and just needs a quick way to find which party pack has those items."
The script saves the parents time that they would otherwise have to spend searching, mixing, matching, and trying to piece together the right party supplies for their children - by quickly presenting them with personalized suggestions for their ideal party pack.
Birthday parties should be fun, not stressful, which is why McLain had the script designed, and recently updated the script to offer parents the option to buy party packs for 8 or 16 guests (if the particular theme's party pack has the option for 16 guests).
Everything about the Birthday Supply Depot is designed to make party
planning easy and hassle-free, McLain explained.
###