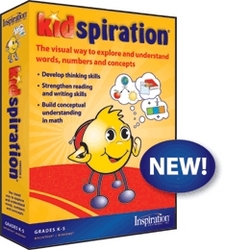 When students use Kidspiration to make visual connections, they build skills in reading, writing, math, science and social studies and, most importantly, develop critical-thinking skills.
Portland, Ore. (PRWEB) February 6, 2008
Young learners will have even more ways to use visual learning to explore and understand words, numbers and concepts with today's launch of Kidspiration® 3. The newest version of Inspiration Software's® visual learning software supports students in kindergarten through fifth grade as they strengthen reading and writing skills, build conceptual understanding in math and develop thinking skills across the curriculum.
Teachers and learners can use Kidspiration 3, a cross-curricular visual workspace, to build fundamental skills in reading, writing, math, science and social studies. In reading and writing, Kidspiration supports students as they think creatively and organize ideas to write, comprehend and communicate successfully. With the new visual math tools in Kidspiration 3, students build a strong mathematical foundation for reasoning and problem-solving by using visual representations to understand math concepts. Across the curriculum, they express and communicate their thinking with pictures, words and numbers.
New capabilities in Kidspiration 3 include powerful tools for using visual learning to build math skills, a Word Guide, expanded searchable symbol library and additional enhancements that support vocabulary building, particularly for English Language Learners (ELL) and English as Second Language (ESL) students.
"Kidspiration 3 takes everything that teachers and learners love about Kidspiration and expands its tools for learning math, broadens its support for building literacy skills and makes it an even more powerful tool for visual learning across the curriculum," said Mona Westhaver, president and co-founder, Inspiration Software. "When students use Kidspiration to make visual connections, they build skills in reading, writing, math, science and social studies and, most importantly, develop critical-thinking skills."
Kidspiration 3 extends the proven principles of visual learning to mathematics with five new visual math tools. Combining the hands-on learning power of manipulatives with the benefits of computer interactivity, Kidspiration gives students the tools to grasp essential and sometimes challenging math concepts. Using Kidspiration for math builds problem-solving and reasoning skills in the core conceptual foundations of counting, place value, computation and geometric thinking. The new visual math tools in Kidspiration address the National Council for Teachers of Mathematics (NCTM) Curriculum Focal Points for Grades K-5, including numbers and operations, measurement, Algebra and two-dimensional geometry. They include:

Kidspiration Color Tiles™: Students use Kidspiration Color Tiles to count, compare and explore number properties and operations and develop computation strategies. Using Kidspiration Color Tiles, students solve area and perimeter problems and model number patterns and the four basic math operations.
Kidspiration Pattern Blocks™: With Kidspiration Pattern Blocks' moveable, stackable geometric shapes, students investigate the properties and attributes of shapes through composition and decomposition. They explore patterns and tessellations, similarity and congruence, experiment with symmetry and represent fractions.
Kidspiration Base Ten Blocks™: With units of ones, tens, hundreds and thousands, Kidspiration Base Ten Blocks help students understand place value and strengthen number sense. Students count, compare, group, partition and create equivalent representations of whole numbers and decimals as well as learn about procedures for operations on multi-digit numbers.
Kidspiration Fraction Tiles™: Students use Kidspiration Fraction Tiles to compare and order fractions and to understand equivalent fractions. They find common denominators, translate between improper fractions and mixed numbers, and model basic operations with fractions.
Kidspiration Fraction Boxes™: Using Kidspiration Fraction Boxes, a dynamic fraction building tool, learners represent fractions visually to build a strong conceptual foundation for figure work with fractions. They compare, order, simplify and find equivalent fractions.
With its expanded library of more than 3,000 symbols, students can use Kidspiration 3 to create graphic organizers including webs, concept maps and Venn diagrams to clarify thoughts, organize information, use new knowledge and build critical-thinking skills. The new symbol search capabilities allow students to find the right symbols to express their thoughts and ideas or they can use Symbol Maker to create and personalize their own symbols.
The visual learning software's new Word Guide helps young learners build vocabulary and reading comprehension skills with easy access to nearly 13,000 words, including sight vocabulary from the Dolch and Frye's word lists. Each entry includes definitions, recorded speech for pronunciation, synonyms and antonyms, parts of speech and sample sentences. The Word Guide pairs 1,400 words with images to enhance word recognition and comprehension and is aligned with Teachers of English as a Second Language (TESL) vocabulary to support ELL and ESL students.
Enhanced support for audio in Kidspiration 3 encourages students to express and document their ideas. For ESL and ELL learners, teachers can record instructions in native languages to enhance student understanding. With the Listen tool, students can hear any text read aloud, strengthening word recognition and comprehension. Kidspiration 3 now supports higher resolution monitors with a larger visual workspace and is compatible with Windows Vista.
Purchasing and Upgrading to Kidspiration 3
Through a special introductory offer available until June 30, 2008, schools or districts that own Kidspiration volume licenses can save 10 percent or more when they upgrade to Kidspiration 3. Single copies of Kidspiration 3 are $69 and upgrades are $39.95; five-computer licenses are $310; 10-computer licenses are $550; 20-computer licenses are $895, and additional pricing is available for larger volume purchases and volume upgrades. Kidspiration users who purchased their software after Dec. 1, 2007, are eligible for a complimentary upgrade. For a free 30-day trial of Kidspiration 3, visit http://www.inspiration.com/freetrial. More information about purchasing Kidspiration is available by calling 800-877-4292 to talk to an Inspiration Software product specialist or through your local education software dealer.
About Inspiration Software, Inc.
Recognized as the leader in visual thinking and learning, Inspiration Software, Inc.'s award-winning software tools, Inspiration®, Kidspiration and InspireData™, are based on proven visual learning methodologies that help students think, learn and achieve. With the powerful combination of visual learning and technology, students in grades K-12 learn to clarify thoughts, organize and analyze information, integrate new knowledge and think critically. Founded 25 years ago by Donald Helfgott and Mona Westhaver, the company's visual learning software tools are used today by more than 25 million students and teachers worldwide.
###