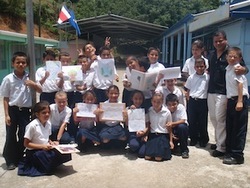 Awarding grants is the most fulfilling part of the Kids to Kids experience
Waltham, Mass. (Vocus) July 13, 2010
World Connect, formerly Infante Sano, a non-profit that empowers local leaders in underserved communities to solve local problems, today announced the awarding of 78 new grants through its Kids to Kids program. The latest round of grants will reach over 18,000 kids in eight countries, including the first wave of funding for communities in the Philippines, Morocco, Peru and Rwanda.
Founded by four middle school aged girls from Massachusetts, Kids to Kids is a youth-led program that raises awareness and money in the U.S. to fund community-based projects in underserved communities around the world. More than 600 Kids to Kids Members across the U.S. actively raise money and awareness in their schools and neighborhoods to support the program. Through their efforts to date, Kids to Kids has now funded over 300 projects reaching over 30,000 kids.
Kids to Kids grants provide targeted funding to projects that have a direct and immediate impact on the day-to-day lives of kids. Projects are proposed by Peace Corps volunteers working in collaboration with local community leaders on creating opportunities for youth in arts, sports, education and the environment. The proposed projects are shared online with Kids to Kids Members who can review and vote on which projects they would like to see awarded grants.
"Awarding grants is the most fulfilling part of the Kids to Kids experience," said Julia, one of the co-founders of Kids to Kids. "Our members act together, as a community, to help drive change in dozens of communities in Latin America, the Caribbean and now in Asia and Africa. We can help our peers, the youth of these communities, access new opportunities for learning, playing, socializing and connecting with each other and with the culture and environment around them."
Grant Details
With this round of grants, Kids to Kids doubled the number of countries in which it works. Kids to Kids funded an additional 78 new projects in Belize, Costa Rica, Dominican Republic and El Salvador as well as its inaugural round of projects in the Philippines, Morocco, Peru and Rwanda.
Belize—Kids to Kids funded 3 grants in Belize, bringing the total projects to date in Belize up to 63. New projects include Magic School Bus: Exploring Belize, which will develop a school trip program for a group of rural villagers who have never been outside of the community. This project will give kids the chance to see beyond borders and get to know their country.
Costa Rica—There are 8 new Kids to Kids projects in Costa Rica, bringing the total count to 52 for the country. New additions include Readers' Clubhouse, which will create a space for children's imagination, discovery, and idea sharing through reading. "Readers' Club" members will care for, organize, and look after the "Readers' Clubhouse" to ensure youth participation and sustainability.
Dominican Republic—In this round of grants, Kids to Kids added 14 new projects to its line-up in the Dominican Republic and has now funded 67 projects in the country. The fourteen new projects include All Roads Lead to Green, which will incorporate environmental awareness and protection into mini-service and arts projects for youth in the community of Puerto Plata.
El Salvador—Kids to Kids funded 10 projects in El Salvador in this round of grants, bringing the total for the country to 91. Funded projects include Malnutrition Prevention Convention!, which will teach cooking classes to young girls as a way to train young chefs, introduce more nutritious foods and improve community health. More than just learning about nutrition, young girls will be offered the opportunity to get out of their usual routines of chores and childcare, and be able to have fun and do something creative!
Morocco—In this initial round, Kids to Kids provided 6 grants, which will reach over 2,500 kids. Funded projects include the Ecological Youth House, which will support a local dar chebab (or youth center) in creating a garden and green house focused on environmental education and beautifying the community.
Peru—Kids to Kids funded 28 grants for projects in Peruvian communities and will reach over 10,000 kids. Funded projects include Be a Hero, a camp for high school students promoting the development of leadership, team work and communication skills with a focus on the themes of: importance of volunteerism, being a good Samaritan, first-aid, healthy relationships, health, being an agent of change in one's community and how to plan a service project.
Philippines—Kids to Kids kicked off its program in the Philippines by funding 3 new projects, reaching over 225 kids. Funded projects include Kickin' It in Guiuan, a soccer team for youth which will provide much-needed opportunities for play and teamwork among youth in Eastern Samar.
Rwanda—Funding in this round will go to 6 projects, reaching almost 500 kids. Funded projects include Ubukorikori Buhorah or Arts for Life, a community resource center that will house a public library, a computer lab and an art center and provide local children of all ages with the space and resources to express themselves in a positive environment.
"The growth of Kids to Kids has been remarkable," said Sarah Henry, executive director of World Connect. "The four co-founders came up with a simple idea and are now reaching tens of thousands of kids across the world. This program showcases the power of a practical approach and grassroots community action on both sides of the equation."
About Kids to Kids
World Connect's youth-led Kids to Kids Program empowers local leaders in underserved communities to solve local problems affecting kids. Founded by four middle school girls in Massachusetts, Kids to Kids encourages grassroots fundraising by kids in the US for youth arts, sports, education and environmental projects. The connections built by Kids to Kids create a new generation of leaders and global citizens. To date, Kids to Kids has reached over 30,000 kids by providing microgrants at the community level in Belize, Costa Rica, Dominican Republic, El Salvador, Morocco, Peru, Philippines and Rwanda. Learn more about the Kids to Kids Program and how it is creating opportunities for kids everywhere at http://www.kidstokids.org.
About World Connect
World Connect, formerly Infante Sano, is a non-profit organization that empowers local leaders in underserved areas worldwide to solve local problems by improving the health and wellbeing of women, children and communities. Since 2005, World Connect has contributed millions of dollars through over 300 grants and in-kind gifts, supporting more than 250 communities in eleven countries. World Connect has two giving channels: World Connect Grants, which supports changemakers in health, education and income generation projects, and Kids to Kids, which funds innovative youth arts, sports, education and environmental projects. Visit World Connect at http://www.worldconnect-us.org to learn more about the long-lasting and transformational impact of its programs.
# # #