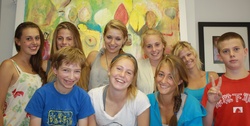 Kids to Kids is thrilled to be one of 10 programs chosen by the U.S. Center for Diplomacy
Waltham, MA (Vocus) September 22, 2010
Kids to Kids, a program of World Connect, is pleased to announce their citizen diplomacy program proposal has been selected as one of the Top 10 Programs by the Youth Service Task Force and the U.S. Center for Citizen Diplomacy (USCCD) and as such will be highlighted as a key component of the upcoming U.S. Summit for Global Citizen Diplomacy, to be held November 16-19, 2010 in Washington, DC.
"Kids to Kids is thrilled to be one of 10 programs chosen by the U.S. Center for Diplomacy," said Sarah Henry, executive director of World Connect. "We are proud to be helping kids be kids around the world and at the same time helping them to become global citizens."
Kids to Kids has more than 650 members across the U.S. who are raising money and awareness in their schools and neighborhoods about kids living in underserved communities around the world. Through their efforts, Kids to Kids has funded more than 300 projects in eight countries impacting more than 30,000 kids.
The Youth Service Task Force, chaired by Steve Culbertson, President & CEO of Youth Service America and Jess Rimington, Director & Founder of One World Youth Project, will focus on youth-oriented organizations and programs that provide innovative and effective ways to involve our youth in helping to solve the global challenges that face us all.
As part of the criteria, the creative use of new technologies and the identification of international partnerships were highly encouraged. Each selected proposal focuses on one or a combination of major global challenges that Americans as citizen diplomats working collaboratively with fellow American and international partners can address. They are:
•Preserving the Environment
•Reducing Poverty & Disease
•Increasing Respect for Human Rights
•Creating a Globally Competent Society
•Encouraging Cultural Engagement
•Achieving Food Security
•Securing U.S. & Global Financial Security
Portfolio summaries of ten selected Top Programs from each of the nine sectors will be available at the Summit for all participants, including potential funders.
The U.S. Summit for Global Citizen Diplomacy is a national meeting presented by the USCCD in partnership with the U.S. Department of State, Office of Public Diplomacy and Public Affairs. The Summit is designed to broaden the momentum generated from the work of the USCCD as a national resource base and network for Americans to be engaged as citizen diplomats, and two major leadership forums focused on the revival of citizen diplomacy as a critical component of U.S. public diplomacy and foreign policy strategy.
The Summit will be the first such meeting since President Eisenhower's People-to-People conference on the same subject 54 years ago, and will serve as the launch for a "Decade of Citizen Diplomacy" with a goal to double the number of American citizen diplomats by 2020.
A complete listing of the selected Top Program organizations, and detailed information about the U.S. Summit for Global Citizen Diplomacy may be found at http://www.usc4cd.org/summit/taskforce.
Kids to Kids and the U.S. Center for Citizen Diplomacy stand together in their commitment to the expansion and promotion of citizen diplomacy initiatives and urges their fellow Americans to join the effort.
World Connect's youth-led Kids to Kids Program empowers local leaders in underserved communities to solve local problems affecting kids. Founded by four middle school girls in Massachusetts, Kids to Kids encourages grassroots fundraising by kids in the US for youth arts, sports, education and environmental projects. The connections built by Kids to Kids create a new generation of leaders and global citizens. To date, Kids to Kids has reached more than 30,000 kids by providing micro-grants at the community level in Belize, Costa Rica, Dominican Republic, Ecuador, El Salvador, Mali, Morocco, Peru, Philippines and Rwanda. Learn more about the Kids to Kids Program and how it is creating opportunities for kids everywhere at http://www.kidstokids.org.
The U.S. Center for Citizen Diplomacy (USCCD) is a non-profit, non-partisan organization established in 2006 to promote and expand opportunity for all Americans to be citizen diplomats, and affirm the indispensible value of citizen involvement in foreign relations. Registration and additional information about the USCCD and the U.S. Summit for Global Citizen Diplomacy may be found at http://www.usc4cd.org.
###